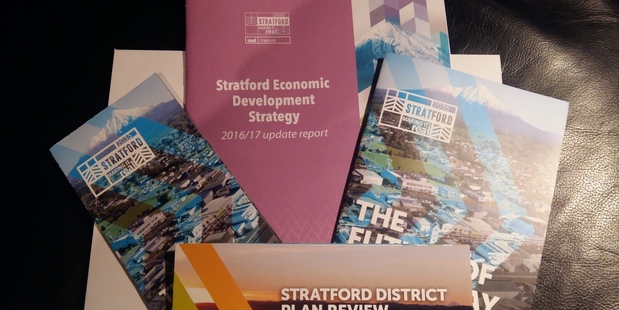 "The time for talking is almost over."
Liam Dagg, director of environmental services at Stratford District Council says there has been lots of talking, and now it is time for action when it comes to the future of the Stratford District.
Liam joined Mayor Neil Volzke and director of community development, Kate Whareaitu in launching three major plans on Monday night at the Stratford Business Association Annual General Meeting.
"We are taking an integrated approach by launching these three documents together," says the mayor.
The three documents, a updates Stratford Economic Development Strategy, the Future of Broadway concept plan and the District Plan Review Issues paper are together being referred to as Stratford 2035 - Making it Real.
Laim says the documents are a case of council "putting all the cards on the table," and he encourages people to read them and have their say.
Neil says the documents are the result of a large amount of work by the team at council, combined with plenty of discussion with a range of interested parties and affected groups.
"We are now putting these documents out for counsultation until December 2 this year."
The Future of Broadway concept plan identifies a set of actions to improve three key parts of the town - Broadway, Propsero Place and Fenton Street at the Malone Gates, says Kate, who adds a key feature is the establishment of a town square, expanding the southern edge of Prospero Place.
"Prospero Place is already a major walkway and cultural hub with the library and art gallery, making this area larger and more interactive will confirm it as the heart of the town."
Neil says the public are now encouraged to have their say, and points out there are plenty of decisions to me made.
"The council own the building which houses the ANZ bank for example, so that can be knocked down to open out more space if that is what people want."
He says one focus is to look at how the district markets itself to potential investors.
"We have so much to offer from a live-work-play persepctive, and I think at times we don't put our best foot forward."
Kate says more information can be fond on teh council website, and also encourages people to like and share their new Facebook page created for this project - Stratford 2035.
For more information see Central Link in the Stratford Press out this week - Wednesday, October 12.