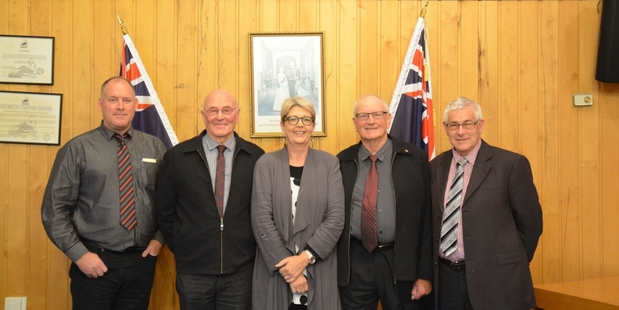 Stratford District Council's Policy and Services Committee meeting held on Tuesday, September 27 marked the end of an era , as for five of the councillors it was their last time to sit at the council table.
Of the 10 serving councillors, half are not seeking re-election, something mayor Neil Volzke says is both a positive and a negative.
"With five of the current councillors retiring this election, it presents a real opportunity to bring some new focus onto council, which is always a welcome thing. On the downside, losing 70 plus years of collective experience in one hit is quite a blow."
All of the councillors retiring, John Campbell, Roger Hignett, Viv Milner, Rob Thomson and Robin Vickers, have served at least two terms, with Roger and Robin clocking up 24 years service each.
"The combined efforts of Roger and Robin who have each given 24 years service is a fantastic contribution to the community," says Neil. "They and their three colleagues will be greatly missed."
Robin and Roger both say one of the reasons they are retiring is to make room for fresh faces around the table, while Viv says she feels the time is right to focus on other priorities. John says his retirement from council will give him time to follow other interests. He will still be greatly involved with the community through his roles with Taranaki Electricity Trust, Pioneer Village and the Stratford Pipe Band.
Rob says the growth of his business has forced him to make a choice between work and council.
"But the past couple of years has left me questioning the relevance of Stratford as a small council."
He says he wonders if Stratford residents, and Taranaki as a whole would be better served as a part of a larger provincial council.
Roger says when it comes to achievements over the years, he rates the reinstatement of seal extensions on the roading programme as a notable success.
"This was rigorously debated at the time and resulted in many kilometres of rural sealing being done."
Robin says he considers one of his biggest achievements to be his role in advancing and developing the council dairy farm "to a standard we can now be proud of".
Rob says a favorite memory from his time on council has been having his thinking challenged, while Roger says being elevated to deputy mayor would have to be his favourite memory. Robin says he has enjoyed his time visiting other councils.
"Good for bonding as a team and also gaining knowledge from other councils to help with our own projects." John says he has fond memories of time spent inspecting drains with the Eltham drainage board, describing it as consisting of "no ties, gumboots and fresh air".
Viv says there is no one favourite memory, but treasures the time she has spent on council and the relationships with people over the years.
Mayor Volzke says he wishes all the retiring councillors all the best.
"On behalf of the community, I thank them all for their service and wish them well in their retirement and all their new-found leisure time."
All the retiring councillors have similar advice for those who will be taking seats at the table for the first time.
"Read your agenda and do your homework," says Rob, with Robin and John both making similar comments.
"Don't be afraid to ask the silly question," says Viv, and John agrees.
"You don't know what you don't know."
A final piece of advice for the newcomers from Roger.
"Don't listen to me. We are living in a different environment from when I started, and I look forward to the new councillors being their own person and bringing their own flair and flavour to our great community and district."