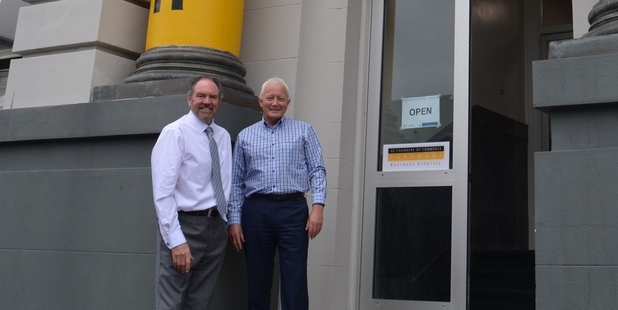 As the Taranaki Chamber of Commerce welcomed members and VIPs to the official opening of their new premises on the corner of Egmont and King Streets, chamber CEO Richard Williams likened it to "the truculent teenager moving to their own place".
He says the chamber has previously always been wherever Venture Taranaki were.
"And now it is time we move out and into our own space as we grow."
The support from Venture Taranaki has been invaluable through the years, says Richard.
"It is certainly going to be noticeable now. I can't just walk across the office to talk to Stuart (Trundle - CEO of Venture Taranaki). Instead I will have to go a bit further when I want talk something through with him."
Michael Barnett, chief executive of the Auckland Regional Chamber of Commerce and Industry, was present for the new office opening in Taranaki, and says the most important thing the chamber offers is the power of 'together'.
"Stratford people do business with New Plymouth people and Hawera people just as much as New Plymouth or Hawera people do business with Stratford people. We need to work regionally, to work together to achieve the best we can."
The new premises give members even more opportunity to network, says Richard, as it has a large meeting room which can fit 16 to 20 people.
"We also hope people will feel able to pop in and have a chat at any time. Our reception area gives people the chance to call in, ask a question or get some information easily. The ability to meet with people face to face is invaluable."
Richard says he and the team are enjoying their new space and he encourages people to pop in and say hello when they are in the area.