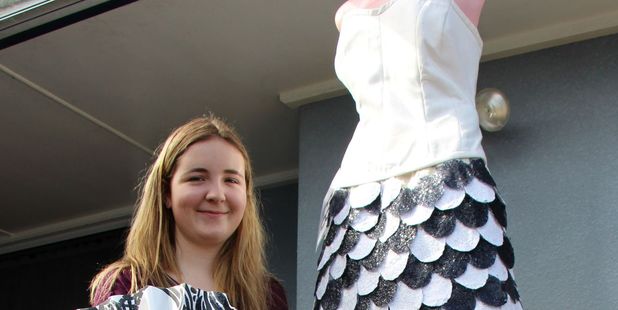 She might have completely worn out her hot glue gun, but design student Kelly McCullough, 17, says her hard work paid off when she was named the winner of the student section in the Time Now for Black and White category at the Taranaki Fashion Art Awards.
Last school holidays the Sacred Heart Girls' College student spent two solid weeks with a glue gun in hand creating the intricate details that made up her piece Ebony and Ivory.
"Mum had to buy a new glue gun at the end but I think it was worth it."
Kelly, who lives in Stratford, says she was shocked to be named the winner of her section on Saturday, September 17.
"I can't even remember being on stage, I wasn't expecting it at all."
Kelly says as part of a school assessment she had to prepare a wearable art garment and enter it in the local competition.
"I choose the black and white section because I like the contrast it creates."
In the process Kelly carefully tested a range of textiles, glue and embellishments to figure out how best to construct her garment.
The corset was made of recycled material, as was the lining of the skirt. Scales were created by bubble wrap, "because it was light, easy to work with and cost effective", and the mask was constructed with wall paper.
Kelly says she loves creating wearable art pieces and looks forward to getting involved in the Taranaki Fashion Art Awards again next year.
"I hope to have a future in design so I really enjoy getting involved in projects like this."
The Year 12 student wasn't the only one to see success at the awards night, with a number of other students from her class being named as finalists in their respective categories.
Kelly says the school intends to display all the pieces in the school library next term.