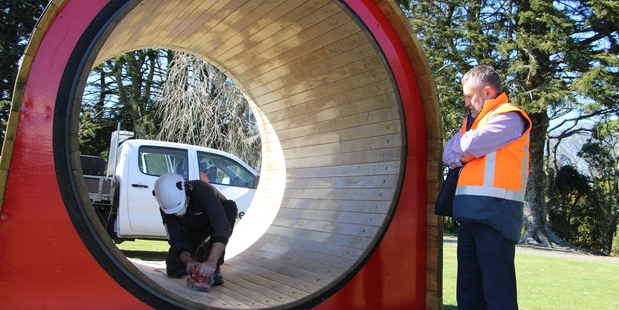 "They clearly aren't that bright."
Neil Cooper, Stratford District Council parks and properties assets manager, doesn't think much of the intelligence of the vandals who have recently attacked Victoria Park.
He says the vandals included identifying details in the graffiti they covered the park with.

They named their teacher and the time and date of an exam they were opting out of.
That information, combined with the fact they were caught on the CCTV cameras in the area, meant police were soon able to identify the culprits and talk to them. They are now being dealt with in the youth justice system. Graffiti isn't just laborious to clean up, says Neil, but costly as well.
"It costs us in labour and materials, and those costs end up impacting ratepayers in the long term."
The most recent graffiti appeared on the rugby grandstand, a barbecue table and the "hamster wheel" play structure on the children's playground.
As a result, we have taken away the barbecue table as it had been hit so often it was not worth getting cleaned again.
The same fate, says Neil, could soon befall the popular hamster wheel.
"If our community can't look after these things, then we won't have them. It would be a real shame to see the youngsters in Stratford miss out on a great play structure because of the actions of these vandals, but we can't afford to keep getting contractors in to clean and repaint it."
Neil says the hamster wheel, which cost $30,000 in total, has only been in the park since late 2014.
"It is one of the newer attractions in the playground, but sadly seems to be attracting the wrong sort of attention. We are pleased police have been able to identify the culprits in this instance, but we are asking the community as a whole to help us stop this pointless vandalism. If you see people acting suspiciously near the play structures, or spot vandals at work, then please call the police and let them know."