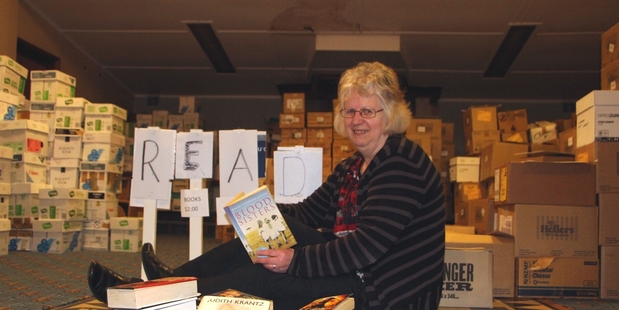 Whether you like fiction or non-fiction, suspense or romance, cookery or craft, you are sure to find something to appeal to your literary senses at Taranaki's biggest book fair, opening tomorrow in Hawera.
The book fair, which serves as a fundraiser for both the Hawera Genealogy Society and the South Taranaki District Museum Trust, will have a vast range of books to suit all tastes, says Jillian Williams.
Jillian, who is convener of the Hawera Genealogy Society, says their team of volunteers have been sorting and categorising the books for the past year.
"Every fortnight, as more books come in, we spend time sorting them out so when it comes to time to set up the book fair, the books are already organised into categories or alphabetically."
With all proceeds going to the two groups, Jillian says they have taken care to price everything reasonably.
"We want people to come and buy, not feel they are too expensive."
With that in mind, fiction and non-fiction books are all just $2, while children's books are a bargain 50 cents each. "We also have magazines, jigsaw puzzles and games, so it is definitely worth people coming along and seeing what is available."
They have a selection of large print books as well, says Jillian, along with plenty of New Zealand specific books, as well as all the usual categories of farming, travel, music, gardening, cooking, religion, etc.
The book fair runs from Thursday through to Saturday, and Jillian says bookworms are advised to get there early.
"We put all the stock out on the first day so it is a case of first come, first served. That said, there are so many books, I doubt anyone will walk away empty handed."
The book fair, which is in its third year now, is a popular fundraiser, says Jillian. "People know it is a good one, and we have people coming from all around Taranaki for it."
Taranaki's Biggest Book Fair: St Joseph's Church Hall, Victoria St, Hawera.
Thursday, September 29: 8.30am-7pm.
Friday, September 30: 8.30am-6pm.
Saturday, October 1: 9am-2pm.