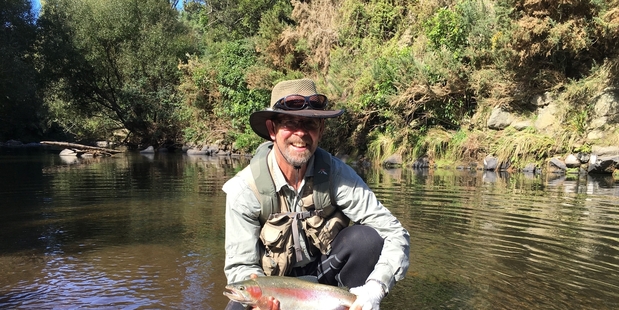 Taranaki Fish & Game is tipping local trout streams to be in good condition when the new fishing season opens on Saturday, October 1.
Field officer Allen Stancliff says that a series of moderate winter and spring freshes have flushed out much of the build-up of river bed algae (that can create slippery wading conditions) and ensured streams will be in good order for early season fishing.
Allen says that water temperatures are rising steadily as spring progresses and trout will be actively feeding and very catchable after having a break from angling activity over the winter.
"Rivers such as the Waingongoro in south Taranaki hold good numbers of brown and rainbow trout and should fish well with spin gear. The Patea River in the reach between Stratford and Toko will also produce some nice brown trout and the occasional rainbow."
Allen adds that if river conditions are unsuitable on opening weekend owing to rain, then fishing in lakes Ratapiko, Opunake, Rotomanu and Lake Mangamahoe (fly fishing only) will be well worthwhile.
The Taranaki Anglers Notice for the new season has been simplified to provide consistent regulations, so that unless a river is specifically listed, an angler can be confident it will be open between October 1, 2016 and April 30, 2017.
The daily bag limit will be two trout and all legal angling methods are permitted. Key exceptions include waters that remain open all year, such as the winter fishing waters in lakes and the lower reaches of some rivers. While there are few changes for Taranaki ringplain fisheries, anglers are encouraged to carefully read the regulation booklet free with their fishing licence to check what it means.
Please check, clean and dry any clothing, equipment, fishing gear etc before moving between waterways to help prevent the spread of didymo and other freshwater pests. While didymo hasn't been found in the Taranaki Fish & Game Region to date, not all catchments are tested and the only safe option is to act as if the water you are fishing in has didymo, but the next one you'll visit, does not. For more information go to www.biosecurity.govt.nz/pests/didymo/cleaning