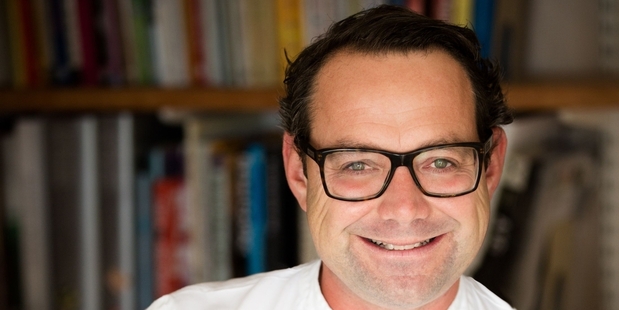 Celebrity chef Michael Van de Elzen has come full circle.
He grew up on a chicken farm and now he and wife Belinda have sold their Auckland restaurants and city home to live on a farm.
"I'm turning back the clock to where our food comes from," he says.
After spending 28 years in the fast-paced, late-night restaurant world, where he worked from 7am to midnight, Michael decided he wanted to be available for his children. Now he raises beef, sheep, chickens, goats and a pig, has a garden with fruit and vegetables and is building his own cooking school. He is also a regular on TVNZ shows and loves to entertain.
That's what Van de Elzen will be doing during the Powerco Taranaki Garden Spectacular when he presents What's Cooking, at the Theatre Royal in the TSB Showplace on November 5.
"I love to make people laugh - I tell people stories," he says. But mostly, he wants to inspire people with food.
"I want people to go home and wake up in the morning and think 'I want to cook'."
When he was younger, Van de Elzen had three career paths before him - an accountant ("I love numbers"), a carpenter or a chef. As a teenager he washed dishes in a steak restaurant and fell in love with the excitement and action of working in a kitchen.
"It was like a drug - I was addicted."
The day after he got School C, he went full-time at the restaurant and has never regretted it. During his O.E. to London, he worked his way up the ranks at Sir Terence Conran's acclaimed Bluebird restaurant. The building was owned by Bob Geldof, who he saw often, and many of the patrons were high-profile, including Princess Margaret.
"I had to escort Madonna out the back door because all the paparazzi were out the front."
He has catered for Elton John and met the Queen when he headed a 140-strong chef team for the official opening of the Tate Modern to cater for 5000 guests.
He and his wife-to-be moved to Ireland where he headed the kitchen of a small luxury hotel, Dunbrody Country House. The establishment was named Conde Nast World Small Hotel of the year.
Back in New Zealand, they opened Mt Eden restaurant Molten in 2004, and then cocktail bar Liquid Molten next door. They sold both in 2011 to pursue new adventures. Van de Elzen has fronted TVNZ shows, The Food Truck and Family Recipes. Now he's starring on TV's Kiwi Living .
See Van de Elzen in action at 7pm, November 5. Tickets available from www.gardenfestnz.co.nz