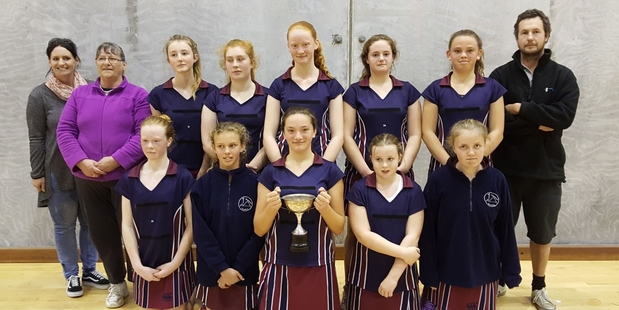 The St Joseph's School senior netball team ended their season on a high, winning the Taranaki Trophy earlier this month.
The girls were up against Toko School in the inter-schools competition and captain Maddison Dravitski says while the St Joseph's side were the favourites to win, Toko School put up a good fight.
"Toko School played really well. The score got quite close in the final but we held on to the lead."
Maddison says the team was confident heading into the game, after winning their grade in the Saturday morning Stratford Satellite Competition and placing third in the Taranaki Champion of Champions competition.
"Although we were a little nervous our shooter wasn't going to make it to the game and we wouldn't have won without her," says Maddison. Team shooter Cloey McDonald had to fly into Taranaki from Hamilton to make it to the Taranaki Trophy final after State Highway 3 was closed due to a rock fall in Mokau.
"I wasn't going to miss the game, it was too important," says Cloey.
Maddison says it was particularly special for the team to have won their final game of the season as the year eight students are heading off to different schools next year.
"We are all great friends. Playing together for so long we've grown really close."
Seven of the girls are headed to Stratford High School, one is enrolled at St Mary's Diocesan School and three will be off to Sacred Heart Girls College.
Maddison says on behalf of the team, she'd like to thank their coach Rowena Dyer for everything she did for them this season.
The team would like to also thank Brian MacDonald, the team's biggest supporter for the season.
"He never missed a game."