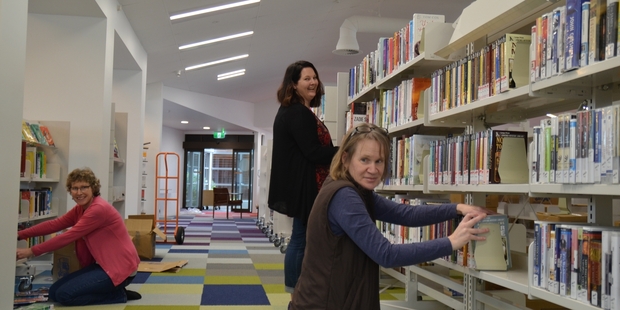 Shelves are busily being stocked as the Stratford Library gets ready to reopen to the public later this month.
The $1.1 million refurbishment of Stratford Libary has now been completed and the team are hard at work replenishing the shelves ready for their grand reopening, scheduled for September 30.
Stratford District librarian Jonet Moore says the new space has "lots of lovely natural light", thanks the large windows installed.
"It is certainly more spacious, and the space is adapatable as well as our new shelves are on wheels so we can move them at times if we need."
Children's librarian Sally Caskey says the new children's space is well laid out.
"It is easy for them to navigate their way around and find what they are looking for."
She especially likes the new style shelving for chapter books that are in a series.
"It is hard for children to look on the shelf to find more books in the same series, but this new shelving is front facing, so they can easily flick through and see all the books in the series they like."
Director of community development Kate Whareaitu says everyone is looking forward to the reopening.
"It is certainly a case of being worth the wait. The new space is fantastic and will offer users a modern library which reflects the changing needs of the community."
Kate says the library is temporarily closed while the final changes are made, but "people can still borrow books using their Stratford card from the Eltham and Kaponga libraries, and of course our online e-book collection is still available as well".
Keep an eye on Central Link in the Stratford Press for the latest information on the library.