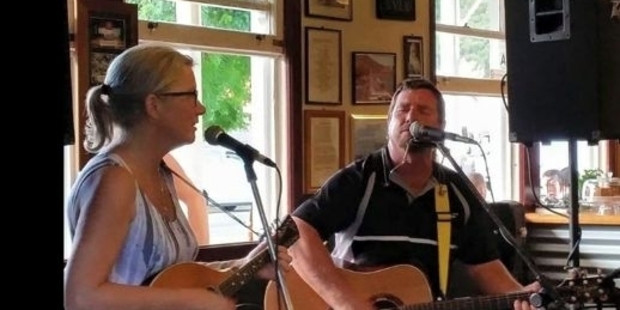 Colonel Malone's is celebrating Oktoberfest in style this year, with Oktoberfest T shirts and glasswear on sale as well as plenty of German beer and food.
They have lined up a range of live music for the event, including the ever-popular Rick Coplestone and Janet Muggeridge who will be playing on Saturday, September 24 from 8pm.
"We've played together heaps of times through the years," says Rick. The evening will include a range of music sure to please the crowd.
"Folk, blues, country, we will have something to appeal to everyone on the night."
There will also "maybe a bit of yap or banter," he adds, saying he and Janet always enjoy playing to a lively and happy crowd.
"It is our world tour event actually," he says with a grin, "although we won't have any t-shirts available this time around."
Rick, who says he has played "pretty much all around Taranaki," says playing at Colonel Malone's is always a pleasure.
"You get a good crowd, and the space there is great. People can come along, grab a table, order something to eat and a drink or tea and settle in for a good night of great music and great company."
Colonel Malone's isn't the only famous bar in the Stratford District to have hosted Rick. He has previously played on the balcony of the Whangamomona Hotel at the first-ever Republic Day.
That concert, he says, is still one of his best memories.
Asked if he has a favourite song, Rick says it varies.
"Whatever I am playing at the time, that is my favourite right then."
Whatever Rick and Janet do play in the night is sure to get the crowd engaged he says.
"We don't just play rock, we don't just play country, we don't just play folk. We look at our audience and play the stuff that is going to keep them happy. We change to suit the mood and the people and that is what keeps people coming back to listen to more."
Rick Coplestone and Janet Muggeridge will be playing at Colonel Malone's in Stratford this Saturday night from 8pm.