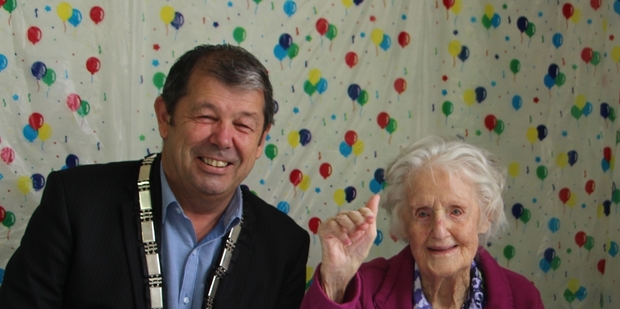 "She looks fantastic, and is fitter than most," says mayor Neil Volzke of Marire Rest Home resident Linda Wiggins who last week celebrated her 108th birthday.
Linda was spoiled on Monday morning with treats of all kinds in her favourite colours of pink and purple as she celebrated her birthday with the staff and residents, as well as board members of Age Care Central.
Neil, who was special guest at Monday's celebration, says he was honoured to be celebrating another birthday with Linda and noted that at a glance you wouldn't believe the birthday girl was one of New Zealand's most senior citizens.
When addressing those at Linda's birthday celebration the mayor added, in his opinion, the best thing about reaching 108 is that Linda would have received close to 1200 pension payments, "she would have almost got all her tax back".
Following Neil's address Michael Walsh, chairman of Marire Rest Home, presented Linda with a bunch of flowers on behalf of the rest home.
Monday morning's festivities was the second celebration for Linda, who had a chance to spend time with some of her five children, 19 grandchildren, 47 great-grandchildren and more than 20 great-great-grandchildren on Saturday afternoon.
Linda says she was surprised to get a visit from a national television station on Saturday morning. When asked for her secret to a long and happy life, Linda simply said "stay positive and just keep going".