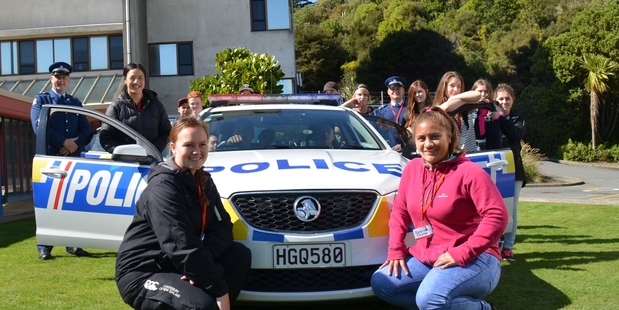 "It was really cool to see it all and to be a part of the day."
Phoenix Witeri, 16, was one of a group of Stratford, Eltham and Hawera based teenagers who visited the New Zealand Police College last week
The group were on a trip organised by the Central and South Taranaki branches of New Zealand Blue Light, which saw them spend a day at college in Porirua, enjoying a tour of the museum as well as watching the attestation parade for the 40 recruits from Wing 299 as they graduated this week.
A highlight of the day was the chance for a sit down and chat with deputy police commissioner Mike Clement who joined the group for lunch in the mess hall.
As well as highlighting the fact "police officers are people too", the deputy commissioner talked to the group about choices.


Young people make choices every day. The choices you make at times can set you on a pathway from which you can't come back. It is your path for life.
Every one of the 8907 police officers in the country he said, "want you to take a second chance if you are offered it, if you are given the opportunity to make a change, then take it".
Phoenix stood up and thanked the deputy commissioner at the end of his talk, saying she appreciated him spending the time with the group.
She says she attended a similar trip a few years ago, also with Blue Light, and was thankful to have the chance to come again.
"I am at an age where I am looking at my options, for my future, my career. I have nearly finished school and need to consider what I am going to do. It was great to come here and see what my future could hold, should I choose to join the police, and to see what I could become."
Phoenix and the rest of the group then joined with family, friends and whanau of the police graduates, as well as Police Minister Judith Collins, the deputy police commissioner and several other distinguished guests to witness the formal attestation parade, which ended with a dramatic haka.
Senior Constable Peter Wright from the Stratford station, who was one of the police officers accompanying the group on the day, says the team at Blue Light are "incredibly grateful" to generous sponsors who help behind the scenes.
"For this trip, we owe special thanks to Mackays pharmacy in Stratford, Subway Hawera and McDonald's Whanganui for all their support."
New Zealand Blue Light is a registered charity and community policing youth programme that for over 30 years has run activities for young people throughout New Zealand free from drugs, alcohol and violence. See our Facebook page for the live feed of the haka at the end of the graduation.