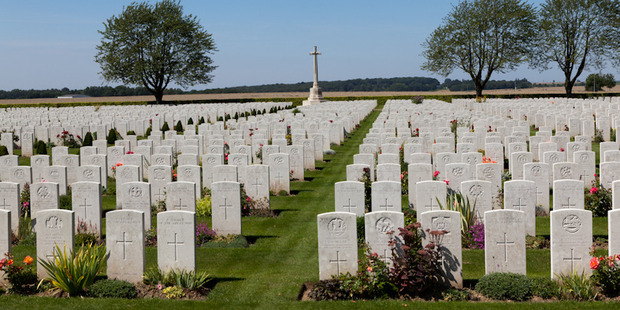 Thursday, September 16, marks the centenary of the Battle of the Somme from a New Zealand perspective.
It was on September 15, 1916 that New Zealand was drawn into the battle of the Somme, which had started on July 1 of that year.
The Battle of the Somme is often remembered for the huge losses incurred on the first day of the battle, back in July, but the battle itself continued for a total of 141 days, with long casualty lists filling the newspapers back home in the UK and New Zealand.
In the 23 days the New Zealand Division spent on the Somme, their losses were close to the numbers from the eight-month long Gallipoli campaign.
Two thousand New Zealanders lost their lives in the battle and by the end, in November, more than 1 million Commonwealth, French and German soldiers had been wounded, captured or killed.
Some 150,000 Commonwealth servicemen lie buried in 250 military and 150 civilian cemeteries on the Somme. Six memorials to the missing commemorate by name more than 100,000.
Stratford man James Hill says he was "incredibly moved" when he visited the Caterpillar Valley Cemetery New Zealand memorial to the fallen.
"It is a serene and peaceful place. Going there is very emotional, it breaks you."
James found inspiration from his visit, writing a poem he has shared with the Stratford Press to publish on the eve of the centenary of New Zealand's involvement:
NZ Front: France
By JAMES HILL
Trenches deeply dug,
Rain trickled mud,
Grey sloughed as it was
Beneath our sodden boots.
Nervous fingers rounds into into Lee Enfield's pushed.
Officers nervously watched,
Webley's revolved Lanyards' lassoed.
Cigarettes, ah the supreme inhalation
Mother dearest on the prayer.
Dawn, oh Christ not another,
That there is still life within us
To take that bloody wire.
We can do it this time
This final time,
But guns the guns
Please, please stop the guns.
Our names are now with you
Bronze stone tattooed
Battalion took the wire
Quivering
Lead spun
Into trenches deeply dug.