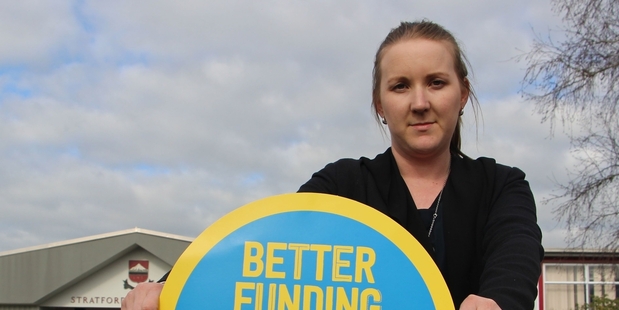 "For people who know me, they know it takes a lot to make me speechless. But this morning, I am speechless."
When national Post Primary Teachers Association (PPTA) president Angela Roberts addressed 1100 teachers and support staff from around Taranaki on Monday morning, she said she was "blown away" by the size of the crowd.
Monday's meeting of educators, from early childhood to secondary schools, was the first of two meetings in Taranaki as part of a nationwide response to the government's "global funding" proposal led by PPTA and NZEI Te Riu Roa.
Taranaki PPTA regional chairperson Erin MacDonald says the education unions have never before undertaken joint meetings of this scale and the attendance on Monday morning was a step in the right direction.
We anticipated maybe 800 people, so to see 1100 people was really positive.
Erin, who is a teacher at Stratford High School, says the government's renewed attempt to propose global funding, "which is effectively a return to the failed bulk funding experiment of the 1990s", would mean all staffing and school operational funding would be delivered to schools on a per-student basis in the form of cash and credits for staffing as opposed to the current decile system.
I agree that the decile funding system is not the best way of funding schools, but the 'global budget' is not a suitable solution.
Concerns raised at Monday's meeting was that the proposed budget would mean boards of trustees had to make trade-offs between the number of teachers they employ and other non-teaching costs of running a school, an incentive to have fewer teachers and larger class sizes as well as increased casualisation of teaching jobs undermining the quality of teaching.
"The global budget proposal puts too much pressure on principals and the boards of trustees. They want the best for the students at their school but will be put under pressure to reduce staffing to fund other expenses for the day-to-day running of the school," says Erin.
Angela, formerly a teacher at Stratford High School, says while she hasn't been able to attend all the regional meetings throughout the country it was important for her to "come home" and be at the Taranaki meeting.
Erin says it was great to have Angela at the meeting on Monday.
"She is a familiar face that gave the audience a real insight to what the government proposal could mean to education in New Zealand".
Following the speakers, union members were asked to vote on whether they supported the government's proposal, and if they thought the Ministry of Education should work closer with the education sector to develop a funding model that recognised the real costs of teaching.
What do you think about the governments proposal? Share your views with the editor.