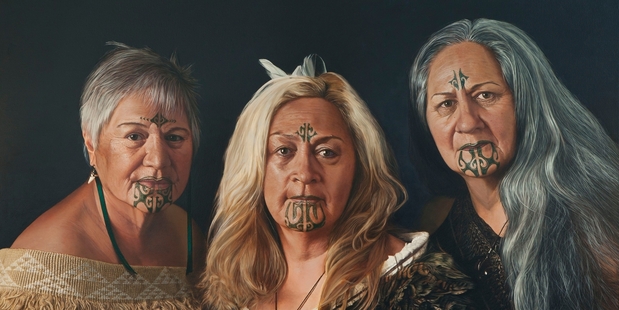 An exhibition of paintings by the 36 finalists for this year's Adam Portraiture Award, one of the country's premier art prizes, opens at the Percy Thomson Gallery this Friday, September 16, at 7pm.
The award is held every two years and the exhibition is traditionally one of the most popular on the arts calendar.
The Adam Portraiture Award promotes the best of contemporary portrait painting from artists throughout New Zealand. It is an initiative of the New Zealand Portrait Gallery Te Pukena Whakaata, Wellington.
The 2016 winning portrait was painted by Andre Brönnimann of Whanganui. Andre will be a guest at our opening event on Friday night.
Bronnimann's portrait of the three 'spiritual sisters' from Taranaki, Te Rawanake Robinson-Coles, Inahaa Te Urutahi Waikerepuru and Ria Wihapi-Waikerepuru, took 412 hours to complete and will now become a part of the New Zealand Portrait Gallery's permanent collection.
Mette Skougaard, the 2016 Adam Award judge, says of the portrait, "The winning portrait is technically very well done.
It combines many styles, but at the same time as it paraphrases the history of Western art, it has clear references to something specific for New Zealand. It makes this portrait very strong in relation to issues of New Zealand contemporary life as well as combining it with universal questions of identity, family and personal history."
Patron of the Adam Portraiture Award, Denis Adam, says, "The quality of portraiture in New Zealand is as good as anywhere in the world and the Adam Award is invaluable in reinstating this poignant art form for the people of Aotearoa."
Also showing at the gallery is Elemental, an exhibition by two well-known award-winning Taranaki artists, painter Merv Turner and potter Margaret Foley.
Margaret's work is quirky, often unique and unusual. Trademarks are her indentations and symbols pressed into the clay.
If you ask Merv Turner what he paints, his answer will be one word - light! He explains that the subject matter is really of secondary importance in his landscapes, still lifes and portraits. He is a highly talented artist who is equally successful in oils or watercolour, capturing light and its various moods. His work shows a great versatility - from spontaneous sketches to careful studies produced by time-honoured glazing methods.
The exhibition opens on Friday, September 16 at 7pm and shows until Sunday, October 9.