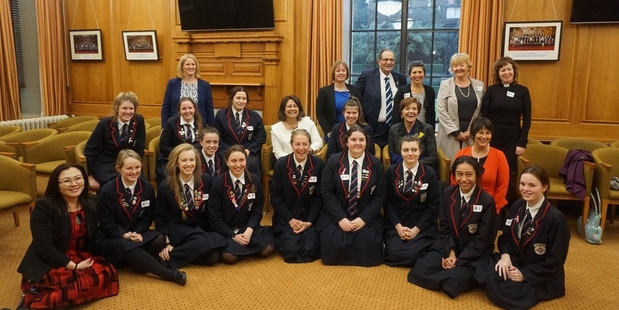 Year 13 students from St Mary's Diocesan School were inspired by leading women of New Zealand on a recent trip to Wellington.
"One of the key things we have found for inspiring our young women to succeed is to hear wise women speak, which was the aim for the trip," says principal Fiona Green.
The four-day excursion saw the students visit New Zealand's Supreme Court, National War Museum, Waitangi Tribunal and Parliament.
The students also got to meet a number of MPs, including Anne Tolley, Louise Upston, Melissa Lee, Maureen Pugh and Hekia Parata, who described the students as "smart and inquisitive young women".
Fiona says, "It was great for the girls to see all these women in power, all of which had very inspirational stories to share about balancing their work, life and families."
Head girl Eva Langton says one of the main things she took away from the trip was the importance of women supporting one another.
"From what we heard, it was very apparent that women need to work together and not be negative towards one another.
"Women face a range of challenges in the workforce and it's important that they aren't also fighting one another."
Lizzy Good says she took away the understanding that it takes a lot of effort to balance life, career and starting a family.
"I learnt that it takes a lot of sacrifices for you and your partner."
Suzy le Fleming says the National War Museum gave her a real understanding of the significance of Anzac Day.
Fiona says this was the first time the school had taken the Year 13s on such a trip and with its success it will be something the school does each year.