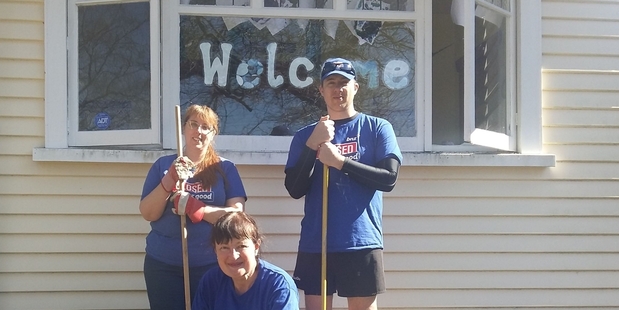 BNZ Stratford, along with all BNZ stores in the country, closed their doors "for good" one day recently.
More than 3200 BNZers spent their day helping on more than 530 community projects around New Zealand, with BNZ staff in Taranaki helping out with four specific projects in the region.
Chief executive officer for BNZ, Anthony Healy, says, "Community organisations provide vital services in their local area and they're always stretched for resources. This is a small way we can leverage the scale of BNZ to help, whether it be by getting stuck in to maintenance or gardening, providing business guidance on marketing and budget plans to running financial literacy and scam savvy workshops."
One of the Taranaki projects was at the Stratford Parents Centre, where the bankers worked on painting a mural for one of the internal walls as well as doing some gardening outside.
"It's not a bad effort for a bunch of bankers," project manager for the day, Joelle Dunlop, says.
She says it was fun having a go at doing something slightly more artistic than their normal work day required. Joelle says she and the team enjoyed their day out of the office helping the community.
The day is one of two days every year allocated to each staff member for a volunteer activity, meaning BNZ staff are all able to get involved and help in their local communities.
While the physical BNZ store on Broadway was closed for the day, BNZ customers were not inconvenienced, as they were still able to access all online and mobile banking services, while call centre and business critical staff were also still available.
Visit www.closedforgood.org for more information.