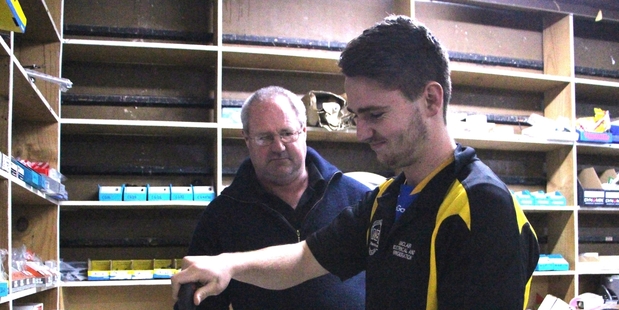 "We must be doing something right!"
Brian Sinclair, owner operator of Sinclair Electrical & Refrigeration Ltd, says he is thrilled that apprentice Jamie Fevre made it through to the national finals of the Master Electricians Challenge, the country's toughest contest for apprentice electricians.
"This proves our systems are excellent and the training we are giving our apprentices is clearly of a high standard."
There's no question that Brian is training some 'bright sparks,' as Jamie is the second Sinclair's apprentice in as many years to make it so far in the competition.
"Last year Daniel Carson went through, so he has been giving Jamie some advice. It is pretty impressive to have two of our apprentices rank so highly at a national level." Brian says Jamie did outstandingly well in the regionals, and was named overall winner of the Taranaki domestic/commercial division of the challenge.
Brian says he chooses his apprentices carefully and has had some "absolutely outstanding young guys" as a result.
Both Daniel and Jamie came to him from Opunake High School.
"I give the guy there a call when I am looking for an apprentice, and he sends me the students he thinks will do well. He hasn't sent me a bad egg yet."
Brian adds praise is also due to Luke Adamson who manages the Stratford workshop, where both Daniel and Jamie work.
"Clearly they are getting excellent training from him there."
Jamie is now heading to the national finals which take place in Taupo this October and Brian will be there to cheer him on.
"There's no doubt in my mind he has the potential to do really well. To have got this far is already impressive. There are only five in his division going to the final so he is already in the top five in the country."
Jamie says he enjoyed the challenge at the regional level.
"So I am just going to go to the nationals with the same attitude. I will use my training and just make sure I keep an eye on my time management while not rushing."
Brian says he is especially pleased with Jamie's result in the testing part of the regional challenge.
"It was particularly good to see how well Jamie did in that division. He got one of the highest scores in the country. The testing component is about safety, which is a huge element of any job we undertake. Having our apprentice score highly in that area is rewarding for the whole team."