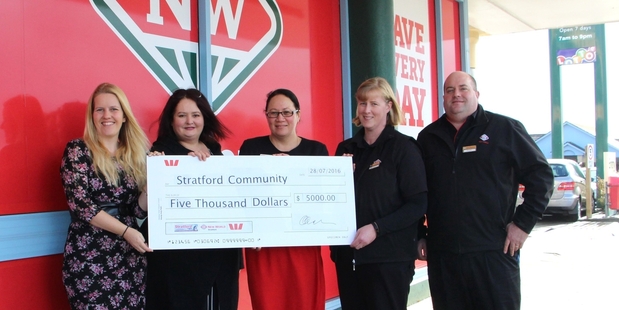 After a lengthy judging session, the 10 finalists for the Stratford 5000 have been decided.
Rebecca Harris, who along with her husband Dan, owns and operates Stratford New World, says the judging was certainly hard.
"Every nomination was of a group or school which would certainly put the money to good use. It is inspiring to see what great groups and schools are in our community. They are something Stratford can be proud of."
Stratford Westpac bank manager Sue Chung says the individual nominations were great to read.
"Each nomination told us something about the group being nominated. It gave us insight into what the groups do and how they contribute to our community."
Advertising manager at the Stratford Press, Tracey Blake, says she was thrilled with how many nominations came in.
"Every day more people walked in to drop off a nomination form or two. That so many people made the effort is in itself impressive."
Dan Harris says he is pleased with the range represented in the 10 finalists.
"We certainly didn't find the judging process easy, especially as we each are involved with many of the groups or have children attending some of the schools and clubs nominated." This meant judges declared a conflict of interest when needed and sat out on the decision making process for certain groups or schools.
With the 10 finalists now announced, the winners will be decided by public vote.
Over the next two weeks, the Stratford Press will print short profiles of the 10 groups chosen, then the public vote for their favourite group. The five winners each receive $1000. Voting opens on Monday, September 12 at Stratford New World. See next week's Stratford Press for details on how to vote.