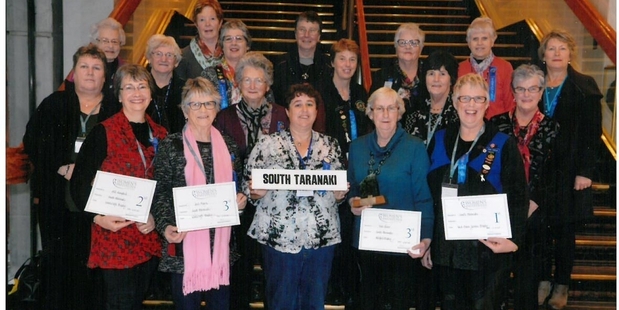 We had much success in the national competitions as part of the 95th annual general meeting of the NZ Federation of Women's Institutes held in Wellington recently.
Eleven delegates and seven visitors attended the three day conference held in the Michael Fowler Centre.
One of the coveted prizes is the scrapbook competition where our year's events are compiled along with many photos and newspaper clippings. In her last year compiling our history, Val Campbell succeeded in winning the competition and receiving the West Coast Junilee Trophy.
This wasn't the only win for the South Taranaki ladies, with several impressive wins for our women.
Val, of the Maata WI was also placed third for her felted scarf in another competition. Christine Corrigan of Pihama WI won the Baby's Mat in the Robert Young class.
The Woolcraft Trophy for a lady's pair of handknitted socks had 42 entries, and second place went to Gill Campbell of Maata WI while third place went to Bev Marx of Mangatoki WI.
Many of our entries also placed highly, with many fourth, fifth and sixth placings for the South Taranaki contingent.
The new medical research scholarship of $15,000 from the New Zealand Women's Institute was presented to help with research into Alzheimers at the AGM. The research team, led by Olga V Zubkova at the Ferrier Research Institute, Victoria University is investigating a new chemical approach in treating Alzheimers.
The South Taranaki Federation and other Women's Institutes will be raising money and awareness for this worthy cause for the next two years. This works in well with our theme of 'nurturing a nation' along with our project for the next two years of "Adopt a ... ".