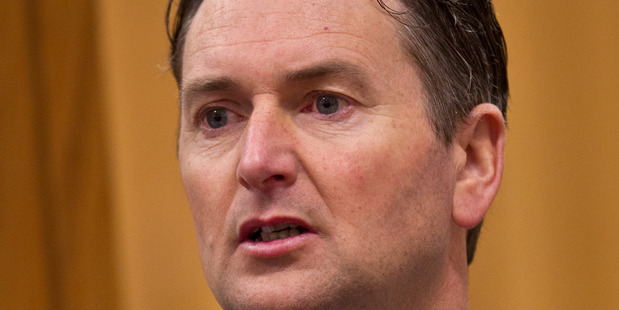 Police fabricated a traffic incident so they could arrest and question Quinton Winders about the death of stop-go worker George Taiaroa, defence has claimed.
Winders, who is on trial in the High Court at Rotorua, is accused of shooting Mr Taiaroa at the Tram Rd bridge on March 19, 2013.
The Crown asserts it was a minor crash a week prior that acted as the catalyst for Winders going back to shoot and kill Mr Taiaroa. But defence states Winders had no motive for the murder and the claims the crash lay behind it were spurious.
Detective Steven Dunn was recalled today to continue giving evidence about the interview he conducted with Winders on April 4, 2013.
During cross-examination Winders' lawyer Jonathan Temm questioned the legitimacy of a "traffic incident" where the accused was arrested for driving erratically and at speed the night before the interview.
"You said in the interview that the real reason [Winders] was here was to talk about the death of a stop-go worker on March 19... The traffic incident was a facade, a charade - a strategic decision by police," Mr Temm asserted.
"No, the [traffic incident] occurred," Mr Dunn replied. He also said he had no control over the events that unfolded and was required to put those matters to Winders in the interview.
However the interview never progressed that far as Winders cut the questioning short.
Mr Temm said police had no power to question people who did not want to be questioned, to which Mr Dunn agreed. Mr Temm went on to say the reckless driving charge was fabricated so Winders would be arrested and taken in for questioning about the death of Mr Taiaroa. Mr Dunn said that was not the case.
Winders was arrested in Repco on April 4, 2013, being tackled to the ground by Rotorua officer and member of the Armed Offenders Squad, Martyn Roe.
Crown solicitor Amanda Gordon asked what would have happened if Winders did not want to speak in the police interview to which Mr Dunn said, "it would have ended right there".
Earlier the court watched the remaining footage of the police interview referred to by Mr Temm.
During the interview Winders reiterated several times his Jeep Cherokee was "more purple than blue".
When told his vehicle was registered as blue, Winders said the previous owner had registered it and he never bothered to change it.
"It's a funny sort of purple, a dark sort of purple - purpley blue... I didn't bother to change it because the girl before had registered it as blue but there is actually a classification of purple. I should change it," Winders said.
The interview moved on to Winders' movements the day Mr Taiaroa was shot. Winders relayed getting dropped to Kevin Davis Panel Beaters to pick up his Cherokee, refuelling at the Caltex and "maybe doing another job" before heading back to the farm.
A few minutes later Winders said he may have gone to Taumarunui to "look at a job - look at a contract to do with fencing".
Winders is then told by Mr Dunn that he was in Taumarunui and is shown CCTV footage of him in the Taumarunui post shop.
"Oh yeah, I was in Taumarunui because I had to get a license for the Jeep... It expired when it was at [the panel beaters]."
When discussing his movements after being in Taumarunui, Winders said he left and went towards Te Kuiti. When questioned further about his route and whether it could be verified by anyone else, Winders said the interview was "getting pretty serious" and he did not want to answer any further questions without a lawyer present. The interview ended at that point.
The court also heard from a number of other police officers today who were involved in the scene examination of Winders' rural Taranaki property.
During the evidence Winders' barn was described as having no electricity, running water, plumbing and very few personal items such as clothes and documentation.
The trial continues.