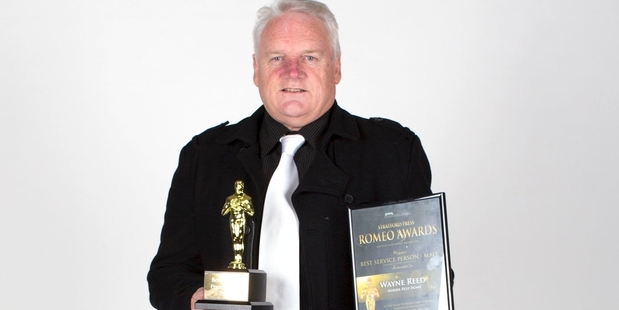 Wayne Reed couldn't be faulted says the 'mystery shopper' who visited Wayne at Marire rest home and hospital where he is the resthome co-ordinator.
When Romeo Awards category sponsor, Margie Hodgetts of Paper Plus Stratford, read out Wayne's name as winner of the Best Service Person Male award in the Romeo Awards, there was a loud cheer and plenty of applause from his work mates, colleagues and friends who were present for the evening presentation.
There was plenty more applause to follow, with Wayne and Margie providing comedic relief as they bantered on stage. Wayne, who has been working at Marire for 19 years, says he loves his job and the team he works with.
"The teams at both Marire and Maryann do a wonderful job in our community. We all work towards providing the highest level of service and care. It is only through the great support of the team at Marire that I can do my job."
Wayne says he loves the Romeo Awards.
"I am a big supporter of them. I have been to every Romeo Awards evening bar one, but this one is probably going to be one of my favourites now".
Wayne thanked the category sponsor, Paper Plus Stratford, and everyone who had worked on putting the evening together.
Photos from the evening can be viewed and ordered online
BEST SERVICE PERSON MALE
Dane Carr (Lions Den Gym) - Finalist.
Matthew Dimock (Dimocks 100%) - Finalist
Nathan Smith (Mackays Unichem Pharmacy) - Finalist
Stacy Drummond (Impressions In Ink) - Runner Up
Wayne Reed (Marire Rest Home) - Winner