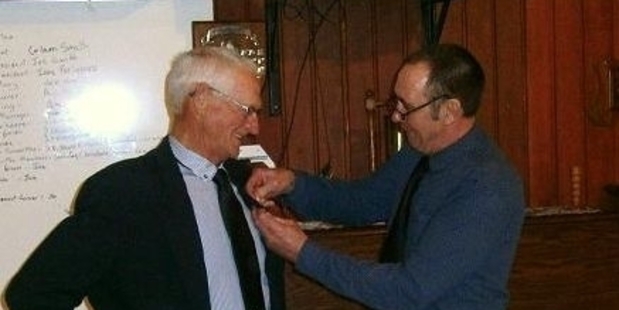 The annual dinner and prizegiving of the Taranaki Dog Trial Centre was this year held in Waverley, coinciding with the Waverley/Waitotara Clubs Centennial.
About 80 Taranaki members attended the evening. Centre president Loyd Bishop congratulated the Waverley/Waitotara Club on achieving the great milestone of 100 years.
Loyd also spoke of the well run North Island Championships which were held in Taranaki in May and thanked all clubs and their workers for the their much appreciated time and effort given.
The highlight of the evening was when a member from the Egmont Club, Lloyd Duffy, was made a Life Member and presented with his badge.
Lloyd is a well-deserved precipitant of this honour as he has been heavily involved with dog trialling for many decades in the Taranaki Centre as well as his local Egmont Club. He is a strong competitor and well respected Centre Member.
The following were winners of Trophies for the 2016 season:
Bernard Murphy Memorial Trophy, Top dog scoring most points in the Taranaki Centre: S Murphy and Kei (Whangamomona).
Lloyd Duffy Tray, Maiden or intermediate dog scoring most points in Event I and II at Centre Champs: M Duffy and Bolt (Hawera).
Graeme Dickson Cup, Highest aggregate points at Centre Champs for 1 heading and 1 huntaway: B Gower with Hone and May (Mangamingi).
Graeme Northcott Trophy, Huntaway aggregate at Centre Champs: G Dickson and Maude (Hawera).
Premier Trophy Club, whose members gain the most wins at trials in the Taranaki Centre: Whangamomona.
A and P Show winner, Highest aggregate for dog competing at the 3 shows: Waverley, Egmont and Stratford, Eric Weir (Waverley).
NZ Straight Furrow Merit award: Athol Curtis, Egmont Club.
Top Heading Dog: S Murphy and Kei.
Top Huntaway Dog: G.Dickson and Bell
Centre Champ winners, Event 1: S Murphy and Treat, Event 2: B Gower and Hone, Event 3: G Dickson and Maude, Event 4: G.Dickson and Maude.