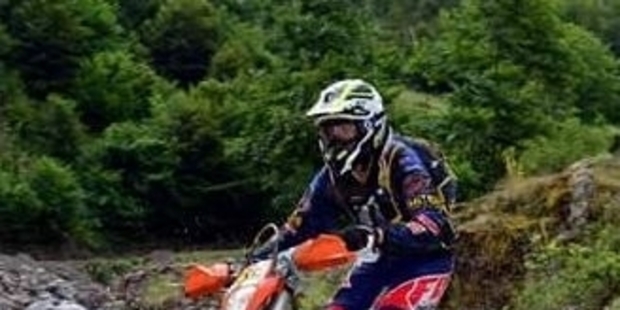 Stratford motocross rider Josh Hunger joined 29 other New Zealand riders on a trip of a lifetime to Romania to compete in the Redbull Romaniac's 2016 world's toughest hard-enduro competition.
Josh was placed in the top 10 of his class in the five-day event.
"There are four classes; gold, silver, bronze and iron. I entered silver along with 103 other competitors from around the world."
Josh says his goal was to just finish the race and maybe place in the top 20.
"I managed to make top 10 in my class, racing around 530km in 25 hours and 4 minutes. This was a result I never expected for my first time."
Day one of the competition is called a prologue and is a man-made obstacle course through the main street of Sibiu with up to 5000 spectators.
The following four days is off-road racing that Josh says sees riders climbing hills, riding through rivers and forests.
"As well as down some very steep slopes that seemed to go on forever. You needed to be aware of bears and constantly outride mobs of wild dogs."
Josh says wild animals weren't the only challenge, competitors had to be up at 4.30am each morning and ride 22-48km to the start line before the race even begun. "We would then race for 6-10 hours before riding the distance home again."
Each day competitors rode a different route, which was navigated with a GPS.
"The heat was something most people also found difficult, riding in temperatures 33 degrees or more. I found that not only did you have to be physically fit, but mentally fit to keep yourself going after each checkpoint."
Josh adds that riders were required to carry a backpack with 8kg of parts to fix their bike, food and survival equipment that riders might need if anything went wrong.
"Romaniac's was a tough five days of racing and one of the best experiences a rider could have."
Josh says he would like to thank his family for all the time and effort they have put into his riding.
"I would also like to acknowledge the guys from my local riding group, Geoff, my dad, Ady, Karl, Dougy, Grant, Brendon, Sam, Chopper and Albie (Global mechanic) for riding alongside me and teaching me the skills I needed to compete in the race. All the landowners who allowed me to use your property to train on and my support crew in Romania who helped me throughout the race, I couldn't have done it without your help."