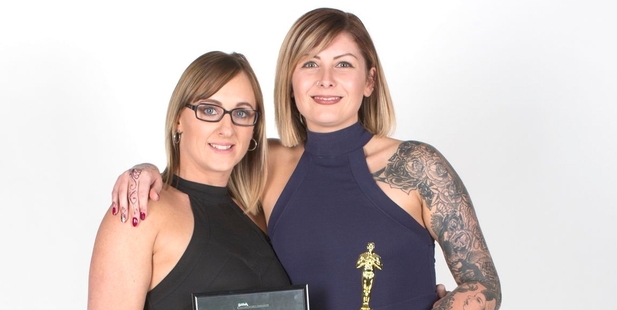 Courtney Hayston and Nicole Herewini agree they were speechless on Saturday night when Revive Hair and Beauty was named runner up in the Best Business Non Retail category at the Stratford Press Romeos.
The pair, who are owner operators of the hair and beauty salon, agree the award is the result of a lot of hard work by every member of the team.
"Everyone at Revive all works towards the highest level of service, and this award is a win for the whole team, not just Courtney and myself," says Nicole.
"It is great to be acknowledged for our service, as all the members of the team strive to provide the same level of excellent service."
Courtney says the team has always been a supporter of the Romeo awards, the biennial event organised by the Stratford Business Association.
"We think it is a great event and were excited just to have been nominated."
Courtney says she and Nicole would like to thank their fantastic team, Lydia Macken, Sarah Nagle, and Natalie Boyde, for their hard work.
"Thanks also to Stratford New World for sponsoring the award."
All the official photos from the awards night, taken by Rosie and Bryan Moyes of photos for you can be viewed and ordered online