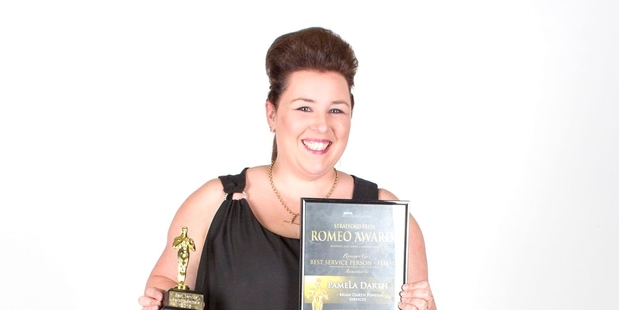 Hearing her name called as runner-up of the Best Service Female award, sponsored by the Stratford Business Association, was "a real shock", says Pamela Darth of Brian Darth Funeral Services.
"It really is a great feeling to simply have been nominated, so being named a finalist and then runner-up in the category is just amazing."
Pamela says there were so many nominees in the category "and so many fantastic people who I know provide great service", she wasn't expecting to hear her name called.
I was just there ready to enjoy a great night out, and wasn't expecting to be coming home with an award.
"I can't believe it and I certainly have no idea who mystery shopped me or when, so whoever the company was that did the mystery shopping did a fantastic job in being discreet."
Pamela was described as being "very welcoming" by her secret shopper during the judging round of the Romeo awards.
"In the business we are in it is important to always help clients feel at ease, so it is nice to know I achieved that."
Working with a great team is a help, she adds, "and given my boss is my dad, I can safely say I work for and with the best".
All official photos from the Stratford Press Romeos are available online