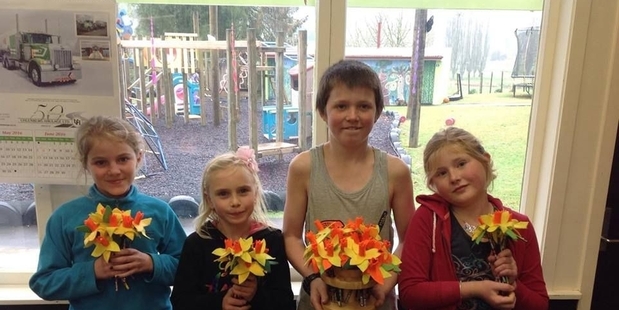 With Daffodil Day now just over a week away, local schools have been getting into the spirit.
Stratford Primary and Ngaere Schools have each hosted a guest speaker who talked about the meaning behind the day and explained where the funds raised go.
The pupils at Marco School have been working hard making special daffodil pencils to help raise money for the charity.
The Stratford Press would love to hear from any school or early childhood centre involved in doing something for Daffodil Day. Give us a call to let us know what your youngsters are doing.
This Friday is the Stratford Daffodil Day disco, where youngsters aged 13 and under are invited to come along to the Stratford Rugby Club from 5.30pm to 8pm.
A gold coin donation is requested for admission, and parents or caregivers are asked to come in with their children to sign them in before dropping them off.
There will be food and merchandise for sale and children are encouraged to dress up for the occasion with the theme of "yellow".
The Daffodil Day merchandise pop-up shop will be open for one day only, at the old Willo shop on Broadway next Wednesday, August 24, between 10am and 3pm.
If anyone would like to help the Daffodil Day committee out with some baking, the committee would really appreciate it. Baking donations (unsliced please) can be dropped off at the Stratford War Memorial hall on Thursday, August 25 between 10am and 4pm.
Packed lunch orders are now being taken, with all orders due in by Tuesday, August 23.
The packed lunches cost $12 each and a minimum order of five per business is required.
To order a lunch, email trazar@xtra.co.nz or Bob.Donna.vdbeuken@xtra.co.nz
Alternatively give Brenda a call on 027 757 5401 or Donna on 027 315 5428.