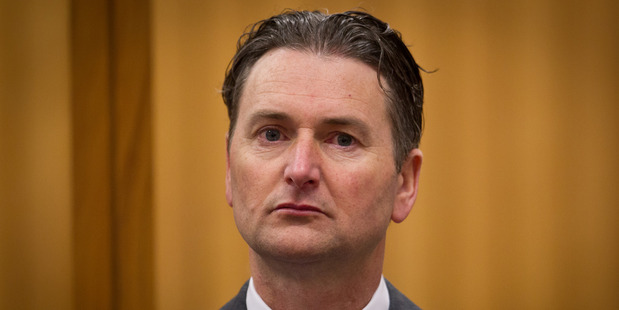 The woman who encountered a "wired up" man driving erratically the day George Taiaroa was shot is certain it was Quinton Winders she locked eyes with.
Corina Walker pointed out Winders in a photo montage provided by the police, 24 days after she was overtaken by a "crazy" driver on March 19, 2013.
Today, more than three years later, Mrs Walker stood by her selection, telling the High Court at Rotorua where Winders is on trial for murder that, "I still see the situation in my head and I am sure in myself that the person [from the montage] was the person I saw."
But defence counsel Jonathan Temm argued Detective Steven Dunn had pinned Winders as the main suspect days before taking the photo montage to Mrs Walker.
In week two of Winders' murder trial, Mrs Walker, a dairy farmer from Taupo, was called to give evidence about her experience driving along Tirohanga Rd when a navy blue vehicle came up behind her, "appearing out of nowhere".
"I noticed the driver came up behind me really quick. I felt like he was really close, maybe 2 or 3m ... It gave me a fright initially.
"He obviously wanted to pass in a hurry, he was moving backwards and forwards. When he did pass he cut back in very sharply. I remember thinking he was driving erratically, crazy.
"As he pulled up beside me we looked each other in the eye, he stared back ... I was quite shaken up by it."
She said she recognised the vehicle as a Jeep Cherokee as it passed her.
Describing the driver's appearance, Mrs Walker said he was a white man with tanned skin wearing a black t-shirt. She said he had brown hair with a straight fringe, no tattoos and appeared cleanly shaven.
Crown prosecutor Chris Macklin asked about the photo montage police presented her with.
"[Police] showed me the montage and one picture hit me ... It hit me like a tonne of bricks. It was the face I had seen that day - to me it was the same person ... I was certain."
During the cross-examination Mrs Walker reiterated she "got a good staring"at the driver, describing him as "big-eyed, wired up".
Mr Temm questioned whether the windows were up in the passing vehicle and if the tinting could have impacted how dark the driver's skin appeared.
"I never thought I was looking at a Maori person, he was pakeha with tan skin ... I still see the situation in my head and I am sure in myself that the person [from the montage] was the person I saw."
Mrs Walker was adamant she received no assistance from Mr Dunn when looking at the police photo montage.
When Mr Dunn took the witness stand, Mr Temm questioned him about a long, videoed interview conducted with Winders at the Rotorua police station on April 4, 2013.
"At the end of that interview, in your own mind, you were satisfied Mr Winders was an important person of interest to the inquiry. Further still, you were satisfied Mr Winders was the 'appropriate' suspect? - the suspect for you." After a slight pause, Mr Dunn agreed.
It was following this interview Mr Dunn took the photo montage to Mrs Walker on April 12.
"When you went out to Mrs Walker, you went out on your own and in your mind Mr Winders was the main suspect," Mr Temm said.
"Yes, but that did not alter how I conducted that photo montage."
Other witnesses called today were three men travelling in the same vehicle, who had come across a speeding blue Jeep Cherokee near State Highway 32 the day Mr Taiaroa was shot.
Derek Hartley, Wayne Nordstrom and Albert Wall were questioned about the driver's behaviour and appearance.
All three had different accounts of the driver, with one describing him as Polynesian, one a pakeha with "darkish hair" and one a fair-skinned Maori with a "stocky" build.
Mr Hartley was driving when he saw the Cherokee come around a corner at speed, "fishtailing" in the process.
After correcting the fishtail, the man raised his hand to his face in what Mr Hartley described as a "wave of shame", as though to say "sorry, bro".
All three men agreed the Cherokee seemed out of place on that stretched of road as it was "exceptionally clean".
Jurors will tomorrow take a field trip out to various scenes relevant to the trial, including the Tram Rd bridge and surrounding areas.