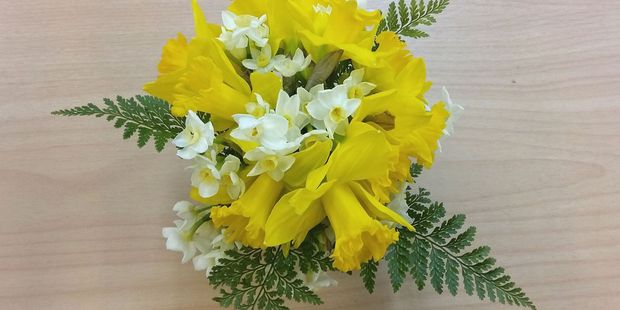 As daffodil day gets nearer, Glenys Campbell is anxiously watching for signs of the bright yellow flowers showing their heads.
"They were showing signs of coming up last month, and for a while I was even worried they would come too early. Now they have slowed down and I can't see many popping up."
Despite this, Glenys says she isn't too worried.
"They always seem to come through in time."
It would help, says Glenys, if the weather was to turn a corner. "We don't need more frost, we need some warmth and sunshine now."
Glenys and her team of helpers need more than 1500 daffodils ready to pick on Wednesday, August 24 this year when they will spend the day in fields and gardens across the district gathering the bright blooms ready to make into bunches, posies and small arrangements to be sold on Daffodil Day, Friday, August 26.
Glenys says as always, they are hoping for a fine day when it comes to the picking.
"We can't change the day we pick on, and the weather can be terrible. Whatever the weather, we will be picking, and we would love to hear from people who are able to volunteer some time and help us out on the day."
Glenys would also love to hear form anyone who has daffodils which they are happy to donate.
"We can come and pick them, or you can pick them yourself and drop them to the Stratford War Memorial Hall on Thursday, August 25 where volunteers will be putting all the flowers into arrangements and posies."
Also a reminder of the STRATFORD DAFFODIL DAY DISCO, Friday, August 19 at the Stratford Rugby Club. 5.30-8pm, for ages 13 and under. Gold coin donation. There will be food and merchandise for sale on the night.
The Stratford Daffodil Day committee ask that all children are signed in by a parent/guardian on arrival.