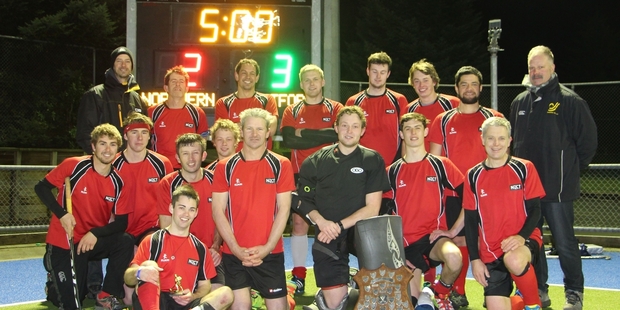 The Stratford Hockey Club had a lot to celebrate, with two back-to-back titles for the club.
The Le dejeuner Broadway men's team and the Brian Darth Funeral Services Stratford Premier men's team both won club titles on Saturday.
"The Stratford Hockey Club have had a very successful season and it is great to end on such a high," says club chairman Glen Taylor.
Glen says all the Stratford teams put in a massive effort this season, with the CMK Women's A team placing second in their grade by only one goal in their final on Saturday. The CMK Stratford Avon team also made their mark this season, working into a higher grade.
"The success in the Stratford teams comes from a good mix of young up and coming players and more experienced players. Players have the chance to learn skills from one another throughout the season, which makes them stronger overall," says Glen.
Gil Sandford, manager of the Le dejeuner Broadway men's team says Stratford hockey is going from strength to strength.
Gil coached the Stratford Broadway team with Brock Engelen and manager Jess Sandford.
Gil says his team worked towards securing their place in the final since the beginning of the season.
"We had always planned to make it to the finals and then just take that game as it came."
Gil says finals hockey was a new experience to many of the players on the Broadway side.
"It's so different to pool play because there is no 'next week'. It's do or die."
Gil says while there were plenty of nerves on Saturday the team did a great job and he and Brock are proud of all the players.
Paul Williams, coach of the Brian Darth Funeral Services Stratford Premier men's team, says his team had their eyes on a consecutive club championship since the beginning of the season.
"The team knew it would be a challenge to defend their title and they were going to have to work hard throughout the season to get back into the premier final."
Paul says with a mix of new and familiar faces on this year's team it was great to see the players working well together early in the season and build on their strengths throughout.
"Saturday's game was close right up until the last minute, but the team never gave up and worked hard right until the final whistle."
Paul says he was pleased to see so many Stratford supporters brave the cold weather to watch the final games.
"The crowd definitely lifted the team spirit heading into the final."
Glen says on behalf of the Stratford Hockey Club he would like to thank all the sponsors, volunteers, umpires and officials for all their hard work this season.
"Without all your hard work we wouldn't have such a successfully run club."
For more photos see page 4 and for full match reports see page 19.