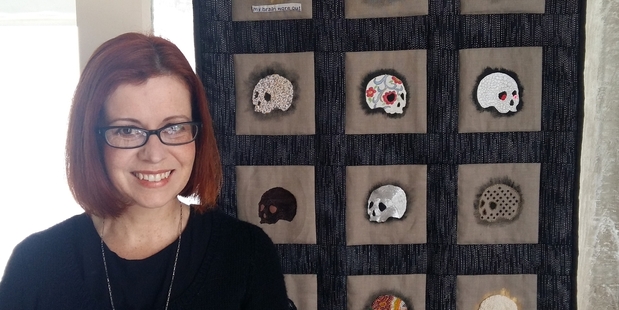 If you were to be asked to imagine a person who had just received three national awards for embroidery, chances are the person you picture would not look like Maree Burnnand.
Maree is in her early forties, "in embroidery circles that still makes me young, most are much older than I am," and her flaming red hair certainly helps her stand out.
The hair, she says, used to be as black as her clothes, "but I decided to add some colour".
On the day she is interviewed, a skeleton with wings dangles from around her neck, where perhaps her embroidery compatriots might prefer a delicate strand of pearls, or a simple gold necklace.
The room is dominated by a beautiful wall hanging, featuring skulls, each carefully stitched. It is a strange mix of the macabre and the beautiful, a mix that appears in much of Maree's work.
In describing her own work, Maree uses the word juxtaposition a lot.
Take, for example, her award winning piece "A Riot of Colour, Yeah Right". The piece, which received a Merit award in the Association of New Zealand Embroiderers Guild Biennial National Exhibition, was entered in a category entitled A Riot Of Colour.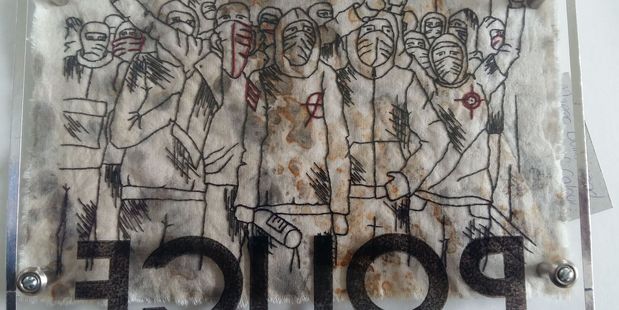 While the other exhibits took the title to give them carte blanche to fill their space with bright colours, Maree took a more ironic approach.
"Who wears colour to a riot? A riot consists of people with one voice, one ideal. People at a riot want to blend in, not to stand out."
The direction of her piece was "obvious", says Maree, who painstakingly stitched rioters at a scene. She carefully avoided giving the rioters any clear cause.
"It's not political. I didn't want it to represent a specific protest, but rather the idea of the anonymity of a riot."
Another one of her winning pieces, "Fear and Desire", a joint winner in the Extensions category, took the name of the award category somewhat literally, featuring real human hair in the final product.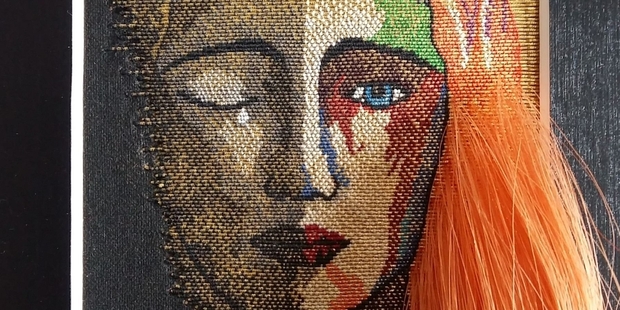 Maree used the technique "or nue" to depict a face, one half showing fear, the other desire. Maree says her inspiration came from lines from a poem by Giordano Bruno, a 16th century Dominican friar, philosopher, mathematician, poet and astrologer - "Desire urges me on, while fear bridles me."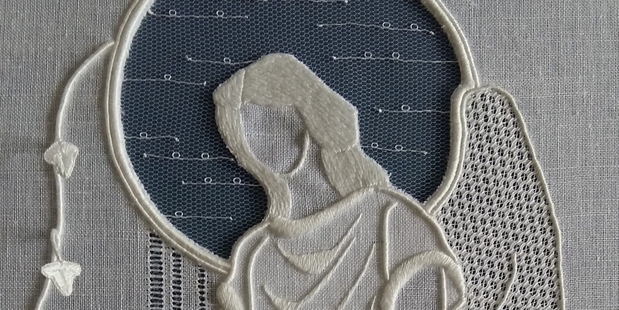 Her other winning piece used traditional whitework (white thread on white fabric) to depict a scene taken from a photo of a gravestone angel.
Despite her choice of subject generally being slightly alternative Maree says it is the traditional aspect to embroidery that appeals to her so much.
"I love doing something that is exactly the same as it was 500 years ago. The tools haven't changed, the techniques haven't changed. It gives an amazing link to history."
The research which goes into each piece also appeals.
"You can immerse yourself in something, find out everything and apply that knowledge to what you create."
With Maree's pieces often being very different to what you might expect to see at an exhibition, they don't always sell easily.
"The people who like my art aren't necessarily the people who go to an embroidery show.
That doesn't put her off however, and in fact she and a friend are working on an exhibition of their own. Keep an eye out for the details of this exhibition.
In the meantime, Maree is continuing to explore the macabre, the gothic and the unusual through her embroidery.
The beautiful dead is a direction she is interested in - the decorated and bejewelled skeletons discovered in Europe in recent years offering her some inspiration.
"Death has become taboo, but these skeletons show it wasn't always that way. We need to talk about death not hide it away."
When represented as beautifully as it is in Maree's work, death certainly shouldn't be hidden away, but rather celebrated and indeed, hung on a wall in pride of place.