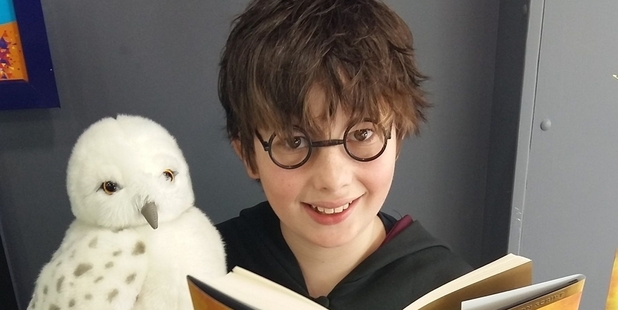 Review: Harry Potter and the Cursed Child by J K Rowling, Jack Thorne, and John Tiffany.
By ACHIM HANNE (and a muggle parent)
Written as a play rather than a book, it takes a few minutes to get into the flow of reading it, but once you have that sussed it doesn't take long for you to be fully immersed in the world of Harry Potter once more.
I wouldn't recommend anyone read it as their first Harry Potter experience, you need the knowledge from the previous novels to be able to make sense of what happens.
Harry's son, Albus Severus (named for two previous headmasters of Hogwarts), is a likeable character. Reading about him you understand why he has problems and feels so alone.
He makes friends with Scorpius Malfoy (son of Draco) and while that friendship seems unlikely given their fathers, it soon makes sense. Both boys are outsiders to their family, they feel lonely and struggle to live up their family names.
Scorpius is one of the nicest characters, in some ways he is similar to Ron Weasley but he also has the brains and academic skills of Hermione. I like the fact we still get to hear lots about the original characters and their personalities come through clearly.
While most of the adults are exactly as they were as children, only with jobs, there are also some surprises. Draco Malfoy is more likeable than before, and at times you cheer him on as he argues with Harry as you can understand his point of view.
The children aren't always chips off the old block either. I like how the writers have made them different to their parents in some ways. Rose Granger-Weasley is really good at quidditch, for example.
Thanks to a time-turner which enables Albus and Scorpius to visit some alternate realities, we also get to revisit some old characters who are no longer alive such as Snape.
Like Draco, Snape shows a more human side in the play and this makes the play really enjoyable as you get to explore other sides of those characters.
As with any Harry Potter story, the main characters go on an incredible adventure, with all the magical mayhem the series is known and loved for. Reaching the end of the book was sad, not because of the ending, but because JK Rowling has announced this is truly the end of the Harry Potter series.
I would love to read more about this next generation at Hogwarts, but in the meantime am happy having read this book and knowing just a little bit more about Harry and his friends in the future.