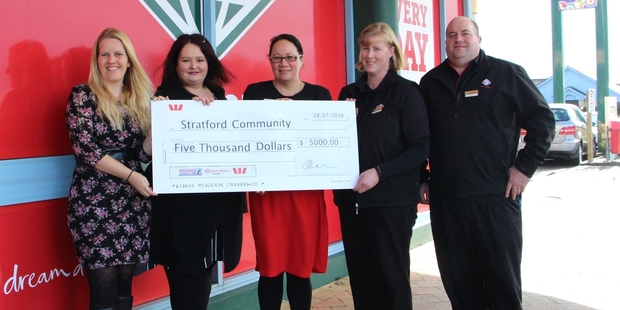 Do you know of a community group or school in need of a helping hand?
Perhaps there is a local cause close to your heart currently fundraising for a specific goal or item, or maybe you know of a school which would benefit from a cash injection?
If so, The Stratford 5000 is a promotion you will love.
The teams at Stratford New World, Westpac Stratford and the Stratford Press are all passionate about supporting local groups and charities, so we have joined forces and together are giving away a total of $5000 to groups or schools nominated by the Stratford community.
Dan and Rebecca Harris are owner operators of Stratford New World and bank with Westpac in Stratford.
"When we bought the store and shifted our family to live in Stratford, we continued our business banking with Westpac as we wanted to work with a bank which was in Stratford," says Dan.
"On meeting Sue (Chung), the bank manager at Westpac, we began talking about how we are keen on giving back to the community which supports us."
Sue says supporting the local community is something the team at Westpac sees as being really important.
"We are involved in a range of community and national initiatives and projects, from the Sir Peter Blake leadership programme through to the helicopter. There are so many amazing groups and schools in the area, and The Stratford 5000 is a great way to help some of them out."
Tracey Blake, advertising manager at the Stratford Press, says she and the team are "really happy" to be involved in the project.
"Every week Hannah and Ilona, our reporting team, write about so many fantastic groups and charities in our area. It seems our paper is full of the awesome things these groups do, and we are aware many of them are in need of funds. The Stratford 5000 is a great way to offer the community the chance to nominate a group or school to be considered for one of these generous cash injections."
Another important part of the promotion, says Rebecca, "is supporting local businesses. To vote, you have to have receipts from local businesses, which is our way of asking the community to support local, just as local businesses support them."
Sue says when it comes to the judging process, she will be looking for "those small groups that sometimes don't get much publicity or public awareness. Maybe a group which for various reasons misses out on other forms of funding or a small school which struggles to fundraise."
Dan says he hopes to see sporting groups and schools turning up in the nominations. "A big school like Stratford Primary will certainly then get lots of parents and grandparents voting, and we want this to be something that has the whole community involved, we want everyone who shops locally to think about what group they are going to vote for."
Tracey says she is looking out for groups who are steadily making a difference to their community. "Most of all I am looking forward to reading the reasons people give on the nomination forms."
Rebecca says she is expecting there to be some "very loud" discussions when it comes to selecting the 10 finalists.
"With so many great groups out there it is certainly not going to be an easy task."
Sue encourages people to start nominating. "If you think they are deserving nominate them yourself, don't leave it to someone else." This promotion, says Dan, "is a chance for the community to make its voice heard, tell us where the need is".