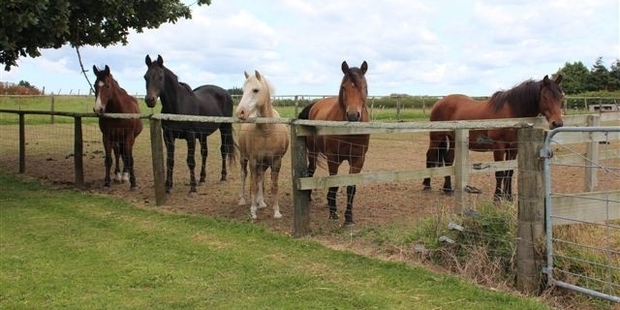 Central Taranaki Riding for the Disabled operates from two acres of leased land at the Pioneer Village.
We currently have three horses and three ponies offering riding for our very special children during terms one, two and four, with a break in term three over the winter months.
Currently, our riders come from the Special Needs Unit at Stratford High School, Ngaere School, Midhirst and St. Mary's.
We have 10 volunteers who receive training and help our riders achieve their goals.
We have a coach, Jess Wheeler who has all but completed her RDA coach's certificate.
New Zealand Riding for the Disabled (NZRDA) is a non-profit organisation with a core purpose to provide interaction with horses to develop increased ability, independence and self worth for children and adults with physical, intellectual, emotional and social challenges.
The therapeutic benefits which can be achieved from horse riding for our children are:
• The challenge of interacting with the horse. Respecting and caring for the horse. Learning how to groom, lead and ride the horse.
• Enjoyment and increased self esteem.
• The muscular and skeletal benefits from the movement of the horse.
• Improved coordination, concentration, balance and posture.
The RDA horse is a special horse. It has to be trained to:
• Stand at the ramp for mounting and dismounting.
• To be of a quiet, tolerant nature to allow our riders to groom and lead them.
• To walk quietly on the lead and through repetitive training of feel and voice, to walk, trot and stop on command.
The RDA horse is required to be safe for some of our riders to learn to ride independently.
We want the best for our RDA horses so they are healthy and well looked after for our riders. To achieve this, our horses require farrier visits every four to five weeks to trim their hooves, as well as an annual vet examination.
They also receive annual worming, teeth balancing and rasping and any first aid of vet visits if they become ill or are injured.
The horses and ponies also need supplementary feeding, maintenance of their saddlery, including covers and transportation to holiday grazing.
This adds up, and it takes about $1000 a year to look after each horse.
We are planning to bring two of our ponies into Stratford tomorrow (Thursday, August 4) to meet the public and help us raise awareness of the work the RDA does.
If you see us come and say hello and meet the ponies.
- Sarah Collier is President of Central Taranaki Riding for the Disabled.