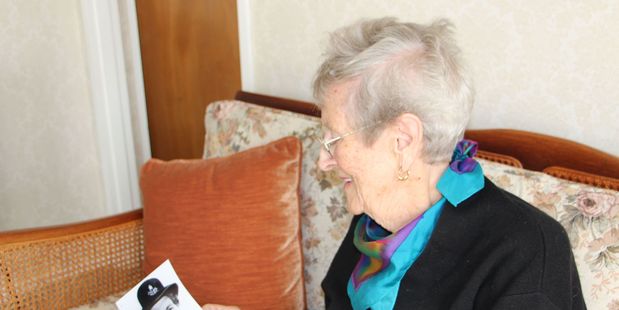 It wasn't a long stint but it was long enough to label it an adventure, an experience and job worth doing.
Moya Costello, aged 87, worked as a policewoman from 1953 to 1957, first in Wellington then three years as Whanganui's first female officer.
"At times it was boring because policewomen weren't allowed to do much, but I had a pretty good time when I look back" says the Stratford resident.
One of the highlights was going to the Glasgow Street Hall Saturday night dances.
"Everyone was was always well behaved so for us it was lovely watching the dancing and listening to the music."
Moya clearly remembers being the escort in court for chief witness, Florence Doughty, in the prosecution of Whanganui farmer Walter Bolton in 1956 for murdering his wife. Bolton was the last execution in New Zealand.
"I had to listen to all the evidence about how Bolton had fed arsenic to his wife Beatrice and that he'd been having an affair with Beatrice's sister Florence."
"At the time it was huge but over the years no one's absolutely sure now that Bolton really did murder his wife. They might have hanged him for nothing."
There was one police car in Whanganui, a 1948 Chevy, she said.
"Not that a female would ever get to drive it."
Staying within the strict realms of the force wasn't always easy for Moya. A friend from Wellington invited her to a family party on New Year's Day at the Turakina Hotel, she said.
"Her family owned the hotel."
Moya admits she was a little nervous because Turakina was in another policing district (Palmerston North).
And the rule was that whether in uniform or 'civvies', socialising in another district wasn't allowed, she said.
However, it turned out to be a significant outing personally because her soon-to-be husband Tom Costello was part of that family.
"At the party Tom was walking around selling raffle tickets which of course was highly illegal but I bought one anyway."
It was just months after that the couple were engaged.
"You couldn't have a police officer married to an owner of a pub. It just wouldn't work at all.'
It didn't matter though, she said.
"I was ready for another adventure and so were Tom's family so the hotel was sold and we all moved to Stratford and bought a drycleaner shop and a gift shop."
She feels blessed because her children still live in the district and keep an eye on her.
" I'm getting on now and I love to know that my family are nearby and they care about me."
Surrounded by four adult children, nine grandchildren and five great grandchildren, Moya says life is good.
"I think I'm pretty nicely off."