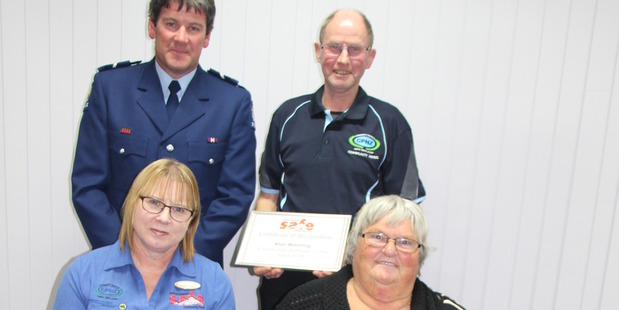 Shirley Hazlewood says she goes through her electric wheelchair tyres "like I don't know what".
The busy Kaponga woman is the co-ordinator of all five Kaponga neighbourhood support groups, and at the Safe Community accreditation ceremony last week, she was commended for her work.
Senior constable Jono Erwood described Shirley as a great community person, as she was presented with a certificate of recognition for her work.
"I really enjoy the work I do. I get to meet some great people."
Shirley says being confined to a wheelchair doesn't stop her getting out into the community and talking to her neighbours.
"I carry a stick with me to help me knock on the doors I can't reach."
Another volunteer to receive recognition on the night was Alan Manning. Dalwyn Smart, Stratford community safety officer, says since Alan started volunteering with the community patrol team in 2010, he had given his time freely.
"He is reliable, honest and always willing to assist others."
Jono says Alan is someone who not only gives of his time generously, but has a skill in persuading other people and businesses to get involved as well.
"An example of this includes the time he went to get the community patrol car warranted. He came back and told us the team at the Stratford Testing Station had agreed to sponsor it, so the warrant was at no cost."
"Then when he heard the fire brigade was replacing their defibrillator, the old one ended up with us. We now have a defibrillator in the community patrol car."
Both Shirley and Alan show just how much gets done in our community by volunteers, says Dalwyn.