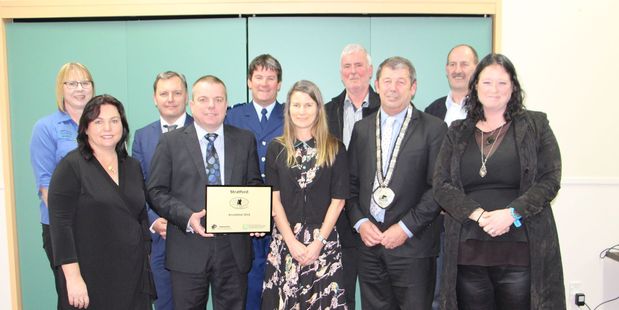 "You may be small in number, but the impact of your work is great."
Tania Peters, director of Safe Communities Foundation NZ, says she is impressed by the work done by the Central Taranaki Safe Community Trust (CTSCT) since it was established in 2009.
Tania was in Stratford last Tuesday, along with fellow trustee Lawrie Gabites and Cathy Bruce from the Health Promotion Agency, to meet with representatives of the CTSCT before a formal accreditation ceremony was held in the evening.
The ceremony celebrated the work done by the CTSCT and their partners in making Stratford a safe place to live, work and play.
Krystal Burrell, operations programme manager of the CTSCT, says the day started with a powhiri at Whakaahurangi Marae to welcome the visitors to the district.
"We then held a presentation, showcasing some of the work we have done as a trust, and answering some of the foundation's final questions before they were able to sign off on our accreditation."
Krystal says the visitors were then taken on a tour showcasing some of the projects in the district.
"They visited the police station where they saw the CCTV cameras and got a little more insight into how our community patrols work, before we took them to visit the team at Tutaki Youth Inc and talked about how the community benefits from that facility."
Tania says the day was fantastic, with each of the visitors finding some inspiration to take away and share with other projects and communities.
While CTSCT originally applied for national accreditation, international accreditation was decided on.
"We were really impressed with the work done, and it certainly meets the standard."
Stratford is now the 25th community, and the 31st territorial authority to be accredited as a Safe Community. CTSCT chairman Danny Bates says the seeds of the project were sown some time ago.
"John Sandford was the original chair of the trust, and back in 2007 there were some funds left over from a smoke alarm project undertaken in the area, which led to the establishment of the Safe Trust."
Since then it had just grown and grown.
Citing the state of the art surveillance cameras as one of the great achievements, Danny says nothing would happen without the support from community partners and many volunteers.
Mayor Neil Volzke said the trust was to be congratulated on the work it had done.
"It is vital to note all of the projects have been driven by volunteers."
He recognised the work of former mayor Brian Jeffares in his role throughout the project.
"Brian was good at taking people on journeys, on showing us where we needed to go, and this was a journey he drove."