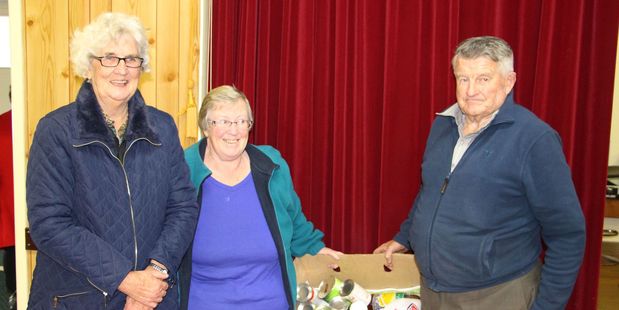 Toes were tapping and hands were clapping last Thursday afternoon at the Senior Citizens Hall with a fundraising concert for Stratford Community Foodbank.
The large audience enjoyed an afternoon of music courtesy of Middle of the Road, consisting of Les Swete and Cliff Whitmore.
Organised by George Worsley, the afternoon concert was planned to help stock the pantry and raise funds for the Stratford Community Foodbank.
George says he wanted to help them out, so as well as donating some of the proceeds of the event after concert costs were deducted , he also offered people the chance to' pay' for a raffle ticket by donating a food item.
George says he was delighted with the result, which provided a box of food to donate to the foodbank, as well as a cash donation of $136.
"The foodbank do a great job," he said.
"They help lots of people and it is good for the community to be able to help them do that."
Dianne Roberts, chairperson of the Stratford Community Foodbank, says the donation came at a great time.
"There is no such thing as too many groceries or our shelves being too full.
"There are always families and individuals in need of our services."
She says she and her fellow volunteers are really grateful to George for organising the fundraiser.
"It is great to have someone who cares and wants to help.
"People like George are so important to our community."