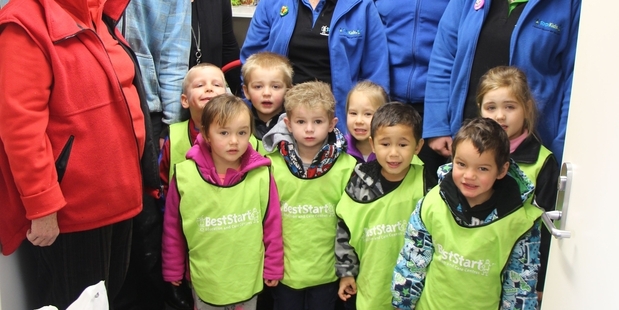 Charlotte Dettling, 4, remembers wearing her pyjamas and bringing in a can of food to day care a couple of weeks ago.
"It was fun. We all wore our pyjamas or onesies."
Oliver Bosson-Hart, 4, says he knows why he, Charlotte and all their friends at TopKids Stratford had their pyjama day.
"We wanted to help the foodbank."
The children were all encouraged to bring in a can of food for the Stratford foodbank, and last week some of the youngsters took a walk from their Miranda Street day care to the Stratford Community Foodbank on Juliet Street to donate the items they had collected.
"I like spaghetti best," says Charlotte when asked what sort of food she thought should go in food parcels to families in need.
"And sausages. Sausages are good to eat," says Oliver.
"We are grateful for all the donations we get," says Linda Whittington, a volunteer at the foodbank.
"There is never a time when we don't need donations, and we are really grateful for every item we receive."
Linda says it was "a lovely surprise" to receive the donation from TopKids Stratford.
"They are so young, so it is really impressive they have done this to help others in the community."
Times are tough right now, Linda says.
"We certainly see a huge need in the community currently. We are giving out plenty of food parcels and I don't think that will change in the near future."
Linda says as well as donations from the community, the community foodbank also benefits from the volunteers who put in hours of work.
"Bruce Demchy gives his time to help us, and he is brilliant. I don't think any of us know the stock list as well as he does. He knows exactly what we have and how much of it."
She has encouraged him to apply for paid positions in Stratford.
"He has some great skills and it would be good to see Bruce able to take the skills he has gained from volunteering with us and apply them to paid employment as well."