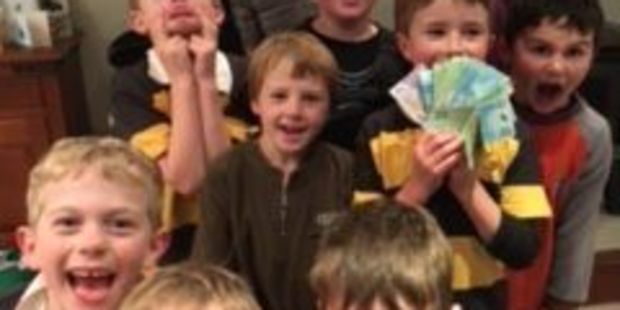 Arlo Wells really really wanted a remote control army tank for his seventh birthday this year, but there were no tears when he didn't get one.
The kind-hearted youngster decided to forfeit his birthday presents, asking his friends to instead bring some money to be donated to the family of another young boy in the district.
Arlo, who attends Toko School, says that he doesn't know Campbell Robertson himself.
"Our school did a pyjama day to raise money for him and they told us all about Campbell".
Campbell is currently in Starship Hospital undergoing chemotherapy for Burkitts Lymphoma, and Arlo says he thought raising money for Campbell and his family would be a kind thing to do.
Arlo was in hospital himself recently, having his tonsils and adenoids removed.
"So we were talking about bravery and pain, which led to a discussion about how brave children like Campbell are facing a life-threatening illness."
Arlo's mum Nicky says this discussion inspired Arlo to want to help Campbell, a child he has never met.
"We are pretty proud of him for doing this."
Arlo says when he had his party his friends all donated money, raising an impressive $300 for Campbell.
"I would like to challenge other kids to consider giving up a present or two to help Campbell."
He says it wasn't too hard missing out on presents, and while he had really wanted the remote control tank, "I can live without it".
Arlo is now hoping Santa will bring him the tank, and meanwhile is happy knowing his fundraising efforts are helping someone in the community.