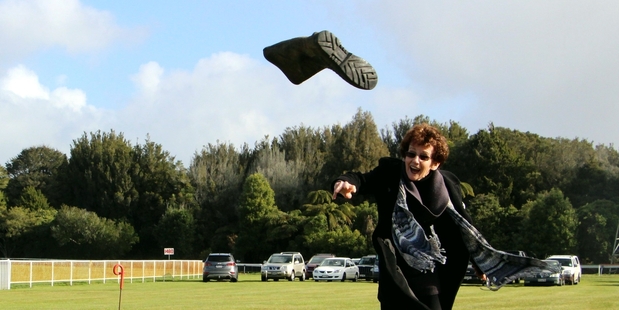 It was a great day for Stratford at the Stratford Racing Club Farmer's Day Out winter meeting last Thursday, with Stratford trainers enjoying plenty of success on the day.
Off the track, there was plenty of fun to be had with a gumboot throw competition attracting plenty of competitors.
Dale Goldfinch came all the way from Hawera to "give it a go" and she certainly showed the young ones how it is done!
While she didn't win the Zen Massage women's event, she says she had plenty of fun and she certainly inspired others to leave the stands and enter themselves in the competition.
Kelsi Bevans ended up winner of the Zen Massage women's event, earning herself a Zen Massage voucher and a Ngati Ruanui Mountain House voucher for her efforts.
Impressive technique by Warren Cleland saw him win the Ngati Ruanui Mountain House men's event, taking home a Ngati Ruanui Mountain House voucher along with a betting voucher.
The younger entrants in the children's section all earned themselves a lollipop for entering.
Event organiser Vaughan Keegan said it was great to see plenty of youngsters at the races for the day and was pleased they enjoyed the gumboot throw.
Bailee Egan-Gray, who is five-and-a-half (the half is very important when you aren't quite six yet), says she liked having a go at throwing the gumboot.
"I tried my best. It was fun and I would do it again."
Emma Cory, 8, had come from New Plymouth for the races with her grandparents.
"I haven't thrown a gumboot before and it was hard to get it going in the right direction."
To focus herself, Emma says she had a secret trick. "I imagined I was throwing the gumboot at my brother because he is really annoying!"