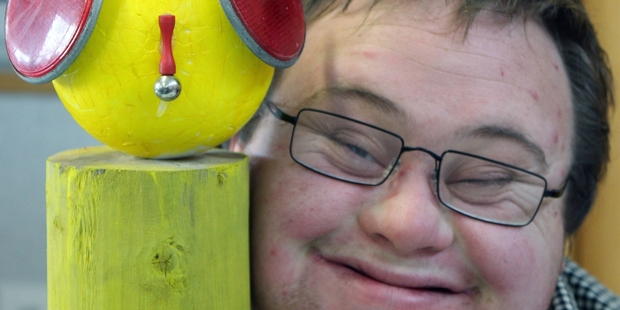 When making a list of her favourite things Aleata Fullerton puts her students near the top.
Aleata is art and drama teacher for the Special Needs Department at Stratford High School.
Her students are guest exhibitors at this year's Youth Show which opens at the Gallery on Friday, July 22 at 7pm.
Aleata and husband Cameron emigrated from Northern Ireland to Nelson in the late 90s where Aleata taught food technology.
While there, she enrolled in a pastel drawing class, dealing to a perceived notion that she wasn't any good at art.
"When I was 11, my art teacher said I wasn't very good at it, that I shouldn't opt for it the next year. I never ever questioned it. In the pastel class I drew an apple, and it looked like a very good apple."
Aleata's confidence restored, she fell in love with the pastel medium. Since then, she has had three solo exhibitions, been included in numerous others, and to her surprise her work has sold.
When Aleata moved to Stratford, she began working at Stratford High.
"I went to the Special Needs Department (SND) as a relieving teacher. It was a wonderful experience," she says.
She jumped at the opportunity to be the group's art and drama teacher. Several of her students have entered the 2016 Youth Challenge art competition. The gallery provides free canvas and paints, and this year's theme is Gamescape.
The SND students have gone the extra mile, also creating driftwood sculptures and 'pole people' for the exhibition. Inspiration for the pole people came from a visit to the gallery during the last Stratford Art Society Exhibition where Jan Pidwell's pole people were an instant hit.
Aleata's face lights up when she speaks of her students' achievements.
"It is such a privilege to work with them. No matter what they have learned from me, I have learned more from them. They still amaze me with what they come up with."
Aleata has two rules for her art classes. No teacher is permitted to touch a student's work and there is no wrong.
"The students must have ownership of their work. They don't have to stay within the lines. I encourage individuality. Being different isn't wrong. You can celebrate it!"
Aleata's students are regular visitors to Percy Thomson Gallery. They enjoy viewing different styles of art.
The group exuded pride in their artistic achievements and were thrilled to be exhibiting in the gallery.
Nicole was delighted to chat about her rainbow creation. Taine was quietly confident that his pole person 'Sir Bluey' was coming along nicely. Abby worked diligently on her delicately-executed canvas. Elias beamed with pride when he introduced us to his 'bug eyes' creation. Jacob didn't give much away at all, except for a huge grin.
"It's all about extending their boundaries," says Aleata. "Exhibiting their work at the gallery is a major buzz for them. Knowing their work is accepted is hugely important for them."
Another guest exhibitor is young photographer Amy Taunt. Taranaki Daily explores the daily life of farmers in the region.