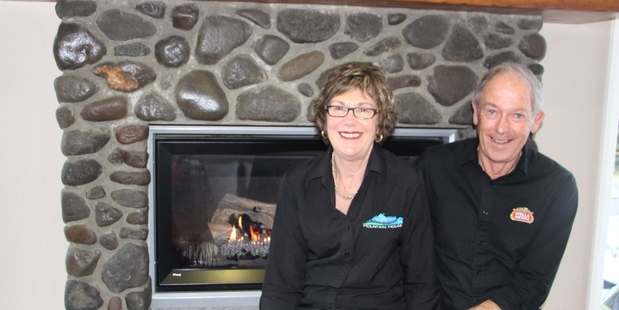 They're back and they couldn't be happier!
Rod and Lynne Pulford are back at the Ngati Ruanui Stratford Mountain House and say combining their managerial role there with owning Platinum Lodge just down the road "is amazingly straightforward".
Lynne says she finds it a real advantage to be living off site when it comes to managing the popular restaurant and accommodation venue.
"We arrive each day through the front door, the same way our visitors and guest arrive, so we see things the way they do."
Rod says when he and Lynne left their roles as managers of the Mountain House to go up north to help their son and daughter-in-law, "it was hard to leave, so obviously we are thrilled to have had the opportunity to come back".
That opportunity actually knocked twice for the Pulfords. "We came back to Taranaki as the opportunity to purchase Platinum Lodge came up at the right time for us, but when Ngati Ruanui contacted us about the possibility of coming back to manage the Mountain House again, we just couldn't say no.
We have always loved the place and spent many happy years here before."
Balancing the two roles is made easy, says Lynne, "by the fantastic teams we have in both places. The Mountain House has always been well known for its great staff and that has not changed. They really work hard here and care about the guests, making our job so easy."
As Platinum Lodge is, as Rod delicately puts it, "more of a female orientated business", he is happy to leave the hairdressing and spa side of it to the talented team of beauty therapists and hairdressers working there. "We oversee it all of course, and manage the accommodation side of it, but you won't see us cutting hair or anything like that!"
He and Lynne are more than happy to be hands-on when it comes to the Mountain House, however. "I think that is one of the things that makes this place so successful," says Lynne. "We are both front of house, talking to diners, serving drinks and taking orders, as well as doing the behind the scenes jobs such as cleaning the bathrooms or running the vacuum through the place. We treat the place as our home, and the staff as our family, and take pride in it all."