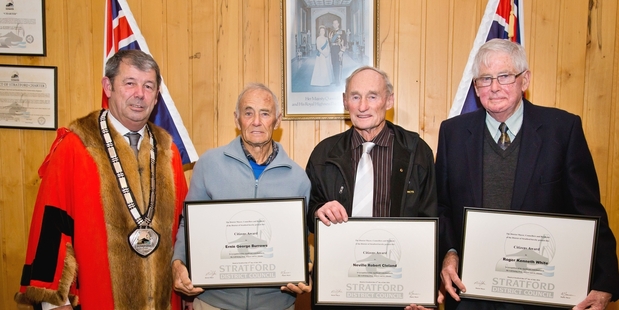 From Lions clubs to Men's Probus, The Rhododendron Trust to speedway, this year's Stratford Citizen's Award recipients have been actively involved in a wide range of clubs and committees in the district.
Last Wednesday night, Ernie Burrows, Neville Cleland and Roger White were recognised for the countless hours they have given to their community at a formal ceremony in the Stratford District Council Chambers.
The three men were presented with their awards by mayor Neil Volzke who praised all three men for their tireless dedication to the district.
All three men say they were surprised and honoured to receive the letter informing them they had been nominated for the award.
Videos of interviews by Neil with each of the three men were played to the family and friends, who along with councillors and Stratford District Council staff, made up the audience.
During the interviews Neil highlighted some of the groups each recipient had been active in, unearthing some surprising or quirky facts along the way.
Roger, who served three terms as a councillor, first for Stratford Borough then for Stratford District when the county and borough councils amalgamated in 1989.
In response to Neil observing he had served under three different mayors in that time, Roger replied "Yes, but I don't know if that was my fault".
Neville, who is the instigator and organiser of the annual Chateau to Plateau motorbike ride, has himself never ridden a motorbike.
"People think it is funny, but I've just never really had the desire."
Ernie, who Neil described as being "a colourful character" was the son of a "colour man".
"A colour man was someone who worked with different colours, manipulating the back and shoulders," says Ernie. "Even today people say they wish he was still around".
Neil says the three recipients are all truly deserving. The selection committee had a difficult job given the high calibre of nominees.
All three men are modest about their achievements, agreeing that getting involved in the community is something all should do.
"If you don't do something, then you just stand still," says Ernie.
"If you're going to be there, you should put in the effort," Roger said.