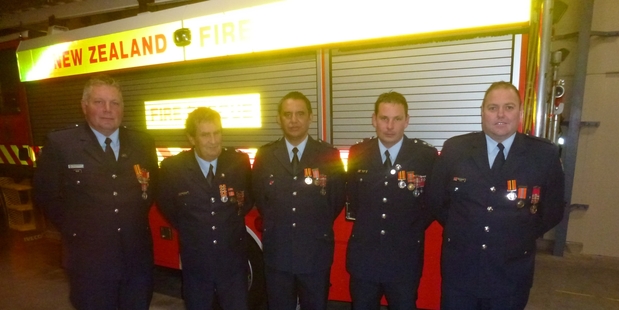 The Stratford volunteer fire brigade held its 125th annual meeting and honours night on Saturday, July 9.
Chief fire officer Tony Foley reported the brigade had an extremely busy year responding to a wide range of calls, including multiple assisting ambulance with CPR calls, motor vehicle accidents dealing with cars, trucks, horse floats and one involving a small horse. The brigade also assisted Hawera fire brigade at two large call outs in Hawera.
During the brigade year, from April 1, 2015 to March 31, 2016 the brigade responded to 132 calls and attended 40 training and meeting nights for a total of 172 musters.
"The major highlight was our 125 year celebrations. The weekend was a great success with a fantastic turn out from the community to the station open day and a wonderful Saturday night function."
The open day attracted four new recruits and they are undergoing training before heading off to Rotorua to complete their course to become fire fighters.
Tony thanked the employers and businesses that support the brigade, especially to employers who allow their staff to respond to calls during work hours.
- The following brigade members received honours on the night:
Long service and good conduct medals for 14 years service:
Deputy Chief Fire Officer Dion Howells, also two year silver bar for 15 years.
Qualified Fire Fighter Mike Ratu.
Qualified Fire Fighter Rodney Houghton, also two year silver bar for 15 years.
Senior Station Officer Brent Rawlinson, two year gold bar for 37 years.
Brent also took out the best attendance trophy with 145 /172 attendances.
Station Officer Dennis Gibbon two year silver bar for 21 years.
Other awards made on the night were:
Qualified fire fighter Robert Mills - refresher certificate from Emergency response driving.
Senior Fire fighters Jonathan Turner and David Hall for becoming Station Officer qualified.