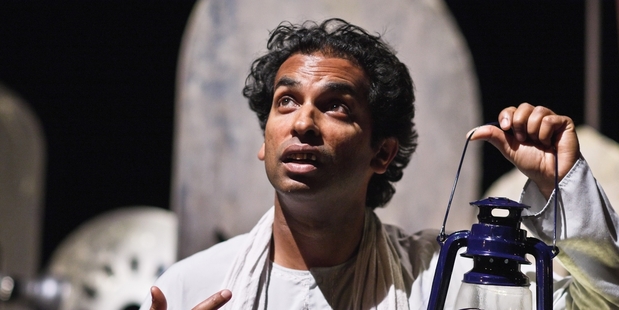 Fans of Indian Ink will be thrilled to hear the team of master storytellers are coming to Hawera next month with their internationally acclaimed show Guru of Chai.
Time Out Singapore described the show as being "nothing short of genius," and thousands of theatre goers around the globe agree.
Guru of Chai has enjoyed sell-out tours around the world ultimately being picked up by a top US agent. Coast to coast tours across the USA have bought audiences to their feet pronouncing it "the best show."
Now its time for Guru to bring his magic to the Hawera Memorial Theatre.
The contradictions of modern India with its iPhones and ancient gods come alive in this outrageously funny and heartbreakingly beautiful romantic thriller.
A poor chai-wallah has his life changed forever when a young girl is abandoned at a busy railway station and brings the place to a standstill with the beauty of her singing. Kutisar the chai-wallah is one of actor Jacob Rajan's favorite characters.
"He's actually based on a mask-dancer that Justin (Lewis) and I met in Bali, a man steeped in the spirituality of mask-dance, but with a weakness for beer and cock-fighting, and yet desperate to have a Facebook page - he literally danced into our lives, and onto the pages of this play as a fully formed character".
The Guru (Jacob Rajan) is a buck-toothed chameleon, channelling 17 characters and leaping to multiple locations, delivering a serpentine romantic thriller while dispensing dubious spiritual wisdom.
He is by turns charming, loathsome and absurdly profound.
Extremely talented and award-winning multi-instrumentalist Adam Ogle plays the banjo, drum machine, whistles and even a humble plastic bag deftly weaving a vibrant musical score with an atmospheric soundscape.
This will be Ogle's second show with Indian Ink after his debut in their acclaimed production The Elephant Thief.
Indian Ink is firmly established as one of New Zealand's most successful independent theatre companies. It has garnered an international reputation with its works consistently enjoying sell out seasons in the UK, Singapore, Australia, Germany and the U.S.
"Indian Ink make some of the best theatre in the world." - NZ Herald.
Guru of Chai: Hawera, Hawera Memorial Theatre, August 12 and 13, 7pm.