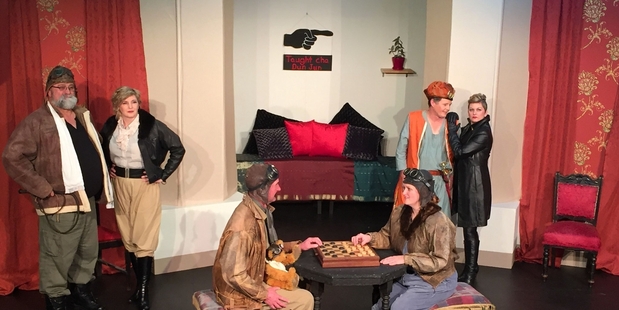 The heroics of fictional adventure pilot James Bigglesworth, "Biggles", takes centre stage in the Hawera Repertory production of Biggles Flies Undone.
With the new seats having been installed in the Hawera Repertory House, audiences can settle in for the night as they watch the famed Biggles, played by Pat White, and his cousin Algy Lacey, played by Donald Campbell, as they are confronted with their most perplexing challenge yet, a woman.
Hilarity ensues as Anne, played by Donnella Weir, turns the chums' world upside down.
Supporting Donnella in her antics are cast members Katrina Fraser, who plays Beaconfield, Ben Thomas, playing Mustapha, and Samantha Turner, who plays the Baroness. The strong cast bring this fast paced comedy, written by Mike Isle, to life with enthusiasm and gusto.
Charles Pittams has directed a fantastic production, sure to be enjoyed by all audience members.
Biggles Flies Undone opens on July 21 and runs until July 30. Tickets are available from Hawera iSite or online here