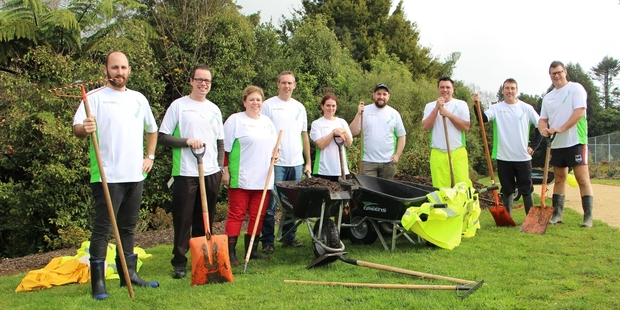 Countdown Stratford celebrated the store's first birthday last month with a free sausage sizzle and birthday cake for all its customers.
While their customers enjoyed the birthday celebrations, store managers from Stratford, Hawera, New Plymouth and Wanganui got their hands dirty doing a bit of gardening for the community.
The managers, with their group manager, helped Stratford District Council with some mulching and gardening in King Edward Park.
While most people enjoy receiving presents on their birthday, the Countdown Stratford team celebrated by giving the Salvation Army a shopping trolley loaded high with groceries for their foodbank.
"We always have a trolley in the store for customers to donate items for the Salvation Army, but to celebrate our birthday we donated an extra trolley load of groceries ourselves," says Raylee Satler, store manager.
Lieutenant Simon Montgomery, corps officer for the Salvation Army in Stratford, says they are thrilled with all donations they receive.
"We really appreciate the support from Countdown Stratford and the Stratford community. Thank you everyone who contributes as it all really makes a difference."