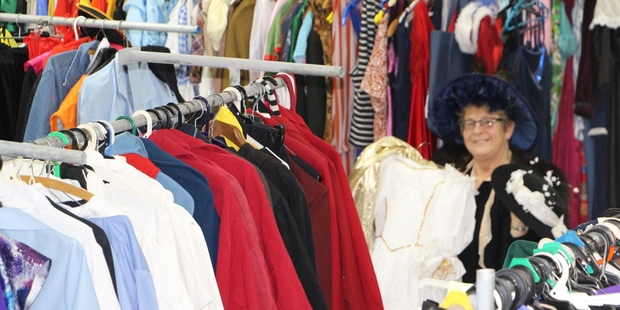 "Everyone loves dressing up, it's always fun to be someone else for a night!"
Patsy Commerford says she isn't surprised to see an increase in the number of people looking to hire costumes for parties or events.
"Murder mystery parties have become really popular over the past couple of years, plus people celebrating their 40th or 50th often decide on a themed dress up party."
Every Saturday Patsy plays her own role, that of wardrobe mistress of The Abbey, the costume hire division of Stratford on Stage.
Between 9.30am and noon The Abbey is open for people to come in, explore the wide range of costumes and accessories for hire and find the perfect outfit for their event. With nearly 3000 items available, Patsy is thrilled with the "fantastic space" The Abbey now has available.
"Thanks to Brian Darth Funeral Services letting us have the space for what is really a peppercorn rent, we now have much more room than before. It is really nice for people to be able to have a good rummage through the racks when they are looking for something."
The new location, on Regan St at the old activity centre in part of the now closed Methodist Church, is "perfect", says Patsy.
"We have a place for everything, and everything has its place!"
From a British admiral to a wicked witch, a blushing bride or Dorothy from The Wizard of Oz, no matter who you want to be, Patsy can probably help you find the right outfit.
"We also hire out dinner suits and dresses for the school balls and formal events. So it isn't just for dress up, but we can also help if you want a beautiful ball gown but don't want to buy something you will only wear once."
While the suits and ball gowns are all priced individually, with the cost covering the fact they need dry cleaning on return, the rest of the items are all available for $20 or under. "Fun needs to be affordable, and what can be more fun than getting dressed up for a party or themed event?"
Visit The Abbey on Saturdays, 9.30am-noon. Regan Street, Stratford. Alternatively, give Patsy a call to set up an appointment time which suits: 029 776 7717